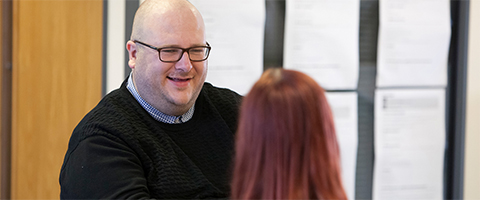 L&Q Foundation
We want to create positive, lasting change for our residents and communities
Our Employment Support team are here to help you.

Whether you're looking for work or keeping an eye on future options.

We can connect you with opportunities, give you one-on-one support with your CV and help you to prepare for an interview.

We know that this is an unsettling time for many of you, but you are not alone.

"We know that our residents need us now more than ever, and we're here to help answer any questions they may have. We're continuing to provide tailored support to connect residents with jobs, while obeying government guidelines to keep people safe. We're also available to maintain the confidence of our jobseekers and work on skills that will help them to land the job of their dreams."

Employee Engagement Coordinator, Abrar Qureshi

To follow social distancing measures and to help prevent the spread of coronavirus, we're not currently offering face-to-face appointments.

If you contact us by email at employmentsupport@lqgroup.org.uk we'll aim to respond to you within 24 hours.

You can also call Abrar Qureshi on 07970 819 544 for an assessment.

Our team are working remotely and are available for both video and telephone calls to help you with your employment support needs.
Our mission is to combine our social purpose and commercial drive to create homes and neighbourhoods residents can be proud of – and the work of the L&Q Foundation is fundamental to this.
The L&Q Foundation was set up in 2011 to bring together all our social and economic programmes in one place.
We continue to develop and fund social interventions that improve people's lives and creates opportunities in our communities.
What we want to achieve
Our latest three-year strategy will see us support our social housing residents to live independent lives and sustain their tenancies with us.
We also want to invest in activities that will increase opportunities for more people and in the communities we manage.
Three long-term challenges drive our latest strategy:
increased levels of vulnerability among our residents
the challenge of creating a sense of place
a decrease in social mobility in our communities
Working with others, we'll try mitigating the effects of these challenges, and where possible reverse them.
To do this, we must invest in the three strategic pillars to make sure we get the best outcomes for our residents. The organisation must also achieve the greatest social return on our investments.
The three pillars are:
Demonstrating our impact
One of our values is 'impact' – we want to measure what we do by the difference we make.
The L&Q Foundation wants to make sure we're having the right impact. So, we're collecting evidence through our monitoring and evaluation framework.
We measure our impact to tell us the effectiveness of our projects, whether projects are value for money and to hold us accountable. It also helps us to understand what works well so we can use evidence to plan future projects.
We're using HACT's Wellbeing Valuation Approach to calculate the social return on investment. Last year, for every £1 invested in our activities, we generated £3 in social value.
You can find out more about our activities on our financial statements page.
Working with our suppliers
We recognise that there are opportunities within our procurement to create social value.
So, we're working with our suppliers to develop and deliver social value plans. These plans aim to deliver social and environmental benefits to our communities.
To find out more, please contact the L&Q Foundation by email at foundation@lqgroup.org.uk.
L&Q Foundation impact infographic