 Updates on our building safety programme
Announcement: 23 January 2023
To bring forwards many of the Grenfell Tower Inquiry recommendations, the Fire Safety (England) Regulations 2022 went live today.
These regulations place additional requirements on us to further improve fire safety in buildings that contain two or more dwellings. Not all the new regulations apply to all buildings and the increase with the height of the buildings with most applying to high-rise properties.
21 July 2022
Following the Building Safety Act becoming law, a number of the UK's largest lenders have come together to announce lending for properties impacted by building safety.
Barclays, HSBC, Lloyds, Nationwide, NatWest and Santander have all agreed to lend on buildings where a remediation plan is in place. This comes as the government announces new leaseholder protections, including a requirement for developers to fund the remediation of blocks they constructed.
We'll continue to support residents, applying for a mortgage, by providing a Letter of Assurance where relevant.
To find out if your block is impacted by this announcement, or to request a Letter of Assurance, please contact the Fire Safety Engagement team at firesafetyengagement@lqgroup.org.uk
1 June 2022
The new Building Safety Act sets out some much-needed leaseholder protections with regard to remediation costs, which we welcome.
The Act confirms that developers will be expected to pay for remediation works to ensure that buildings meet the new safety standards, with building owners such as L&Q able to pursue developers for work done in the last 30 years.
We can confirm that we'll not pass on the cost of remediation for any blocks we built and will rigorously pursue the developers of our other homes. We will also continue to not pass on the cost of waking watches or building inspections.
The government now needs to introduce legislation which sets out the detail about exactly how building owners should assess and cover remediation costs for their homes.
Once this is available we will formally set out our charging policy. In the meantime, where works are already underway on non-L&Q-built homes, we would like to reassure residents that any costs will only be recovered in line with the guidance in the Act.
31 March 2022
The Royal Institute of Chartered Surveyors has released new guidance with regard to EWS1 forms. This follows the release of a new methodology for fire risk appraisal, known as PAS9980.
PAS9980 does not replace an EWS1 form, which is for evaluation purposes, however, it provides clear guidelines on how to assess the scope for fire spread via the walls and cladding. The guidelines are also clear that a more proportionate approach should be taken and that not all buildings will require an appraisal or intrusive inspection.
The new EWS1 forms have also been made electronic, meaning that they are more accessible and have a clear audit trail.
L&Q's building safety programme is not designed solely to produce EWS1 forms but to ensure the safety of our residents. Therefore, we do not yet expect to make changes to our programme of inspections.
Lenders may still request an EWS1 form and it is at their discretion to do so. If you're asked for a form and your building is now deemed out of scope, we can assist you in pushing back to lenders.
If you would like assistance in accessing your building's EWS1 or reverting to lenders, please contact our team by email at firesafetyengagement@lqgroup.org.uk.
10 January 2022
On 10 January 2022, the government announced measures to ensure that leaseholders in buildings above 11 metres tall would not have to contribute to costs for work to address safety issues with any cladding on their building. At the same time, it was announced that the government would be issuing new building safety guidance to replace the existing advice.
We firmly believe that leaseholders should not have to pay for any failings of developers or unfit building regulations. We have already committed to paying for the remediation of all blocks built by our in-house construction arm, Quadrant Construction, so these announcements are a welcome step to encourage others to do the same.
We know that many leaseholders will be keen to know what the announcements mean for them. The government must now provide building owners with the detail we need to confirm how the new funding approach will work, including what types of work the funding will cover. At present, it is not clear whether the funding arrangement will also protect leaseholders from the cost of remediating non-cladding issues such as balconies.
The government also need to confirm exactly what the changes to building safety guidance are.
The government has committed to providing more detail by Easter. We will then provide an update to residents as soon as we can. For now, our Building Safety Programme will continue as planned.
21 July 2021
On 21 July 2021, The government announced that they believe EWS1 forms (which help prove to mortgage lenders that a property meets the latest building safety guidelines) should not be needed for lending on buildings under 18m in height.
This may mean that residents who have previously been asked to provide an EWS1 form to remortgage, staircase or sell their home may not now require one, however, it is important to note that this is still at the lender's discretion.
If your lender has asked you for an EWS1 form, and you believe that your building no longer requires one, we suggest that you ask them for further clarification as to why they are asking for the form as they must specify a specific concern to do this. If they have provided you with this detail, please contact your Property Manager for information about the next steps.
To read more about the Minister's announcement, visit the Government website.
Please note that L&Q's programme of building safety inspections will not be affected by this announcement as these are still required to ensure your building meets the current government building safety guidance. We will continue to write to impacted residents, as inspections are scheduled.
10 February 2021
On 10 February 2021, the government announced additional funding to support the removal of dangerous cladding from tall buildings. The new £3.5bn of funding is in addition to the existing Building Safety Fund of £1.6bn, bringing the total available to £5bn.
The Fund is only available for cladding works on buildings over 18 metres in height, so the government also announced that it would be providing financial support for residents of buildings between four and six storeys high by developing a long-term, low-interest loan scheme. As part of the scheme, leaseholders shall not pay more than £50 a month towards the removal of unsafe cladding.
To help fund these measures, the government are planning to introduce a developer levy that will apply when developers seek permission to construct certain types of high-rise buildings in England and a new tax for the UK residential property development sector.
L&Q welcomes the news that more money is being made available for the remediation of dangerous cladding and looks forward to receiving additional detail about these funding measures. However, there is still a lot of work to do to make all affected homes safe which will take time to deliver.
At present, the new funding offer only covers the removal and remediation of cladding. It does not cover the remediation of any other building defects that might contribute to an apartment block not meeting new building safety guidelines, such as issues with cavity barriers (which restrict the movement of fire and smoke within a building) or the materials used in balcony construction.
We, therefore, recognise that many of our affected leaseholders will be disappointed with these announcements.
L&Q has committed £250 million to building safety works over the coming years and has launched one of the UK's largest building safety inspection programmes. We have already protected leaseholders from over £20m of costs, by not charging for Waking Watch and fire detection systems.
As a registered charity, all of the money we make is reinvested back into our social mission, so unplanned, expensive building safety costs have the potential to severely impact this. We would welcome further government support to protect all affected leaseholders from costs and protect housing associations' ability to continue investing in much-needed social homes.
We will be working with the government and our partners in the sector to try and find additional funding solutions to help solve the cladding crisis for residents of all tenure types. In the meantime, we will continue to make applications for the Building Safety Fund where possible.
In the absence of further support from the government, we have committed to exploring all options for the funding of non-cladding works and works on buildings below 18 metres high, before considering whether to pass costs on to residents. This will include investigating the possibility of seeking compensation, making an insurance claim against, or requiring that the remedial works are done by the original developer/contractor.
Previous updates:
New building safety guidelines
Following the tragic fire at Grenfell Tower in 2017, the government has changed its building safety guidelines.
The new guidelines have been developed to ensure your safety in the unlikely event of a fire in your building.
Your safety is our top priority, so to make sure that your building meets these guidelines, we're currently undertaking one of the UK's largest building safety inspection programmes. These inspections will tell us whether we need to carry out works to your building to make sure that the new guidelines are met.
If you're a leaseholder, we hope that these inspections will also enable us to provide you with an EWS1 form, which you or your buyer's mortgage lender may ask for if you wish to sell, staircase or remortgage your property.
We are undertaking our inspections in two phases.
Phase 1: Buildings over 18m in height (six storeys or above)
Our first phase of inspections, taking place between September 2020 and September 2021, are focusing on buildings 18m or higher.
This is in line with government guidance, as well as guidance from the Royal Institute of Chartered Surveyors (RICS), which is working with the government to provide guidance for mortgage lenders.
To ensure resident safety in buildings where work is required, and where requested by a Fire Engineer, L&Q will install a Waking Watch or temporary fire detection system.
L&Q residents are not charged for these measures and to date, we have protected residents from over £20 million in Waking Watch/alarm installation costs.
Phase 2: Buildings under 18m in height (five storeys or below)
We'll begin the inspection of more than 2,000 apartment blocks under 18 metres in height from September 2021.
For this group of homes, different types of buildings require different types of inspection, dependent on their height and how they were built, as well as other factors.
This is because the government's new guidance applies mainly to buildings over 18m in height, with buildings lower than 18m (six storeys) only requiring an inspection if certain combustible materials (materials that are able to catch fire) are present in their external wall system (including balconies). Similarly, updated guidance from RICS only requires certain buildings in this category to secure an EWS1 form.
Where buildings are considered a higher risk due to the presence of combustible materials, L&Q will be carrying out a full intrusive inspection like those for our tall buildings.
Where blocks have been found to be of lower risk, in line with the guidance, L&Q will not be carrying out an intrusive inspection, and we'll instead inspect these buildings through our regular programme of fire risk assessments (FRAs). More than 900 L&Q apartment blocks will be inspected in this way.
This amounts to more than 7,400 homes, where lenders should no longer request EWS1 forms. If you would like advice on what to do if your home will be inspected through an FRA, but your lender is still asking for an EWS1, visit our help and advice pages for more information.
We'll be writing to residents in blocks under 18 metres tall with information regarding their inspection type, and where applicable their inspection window, from April 2021.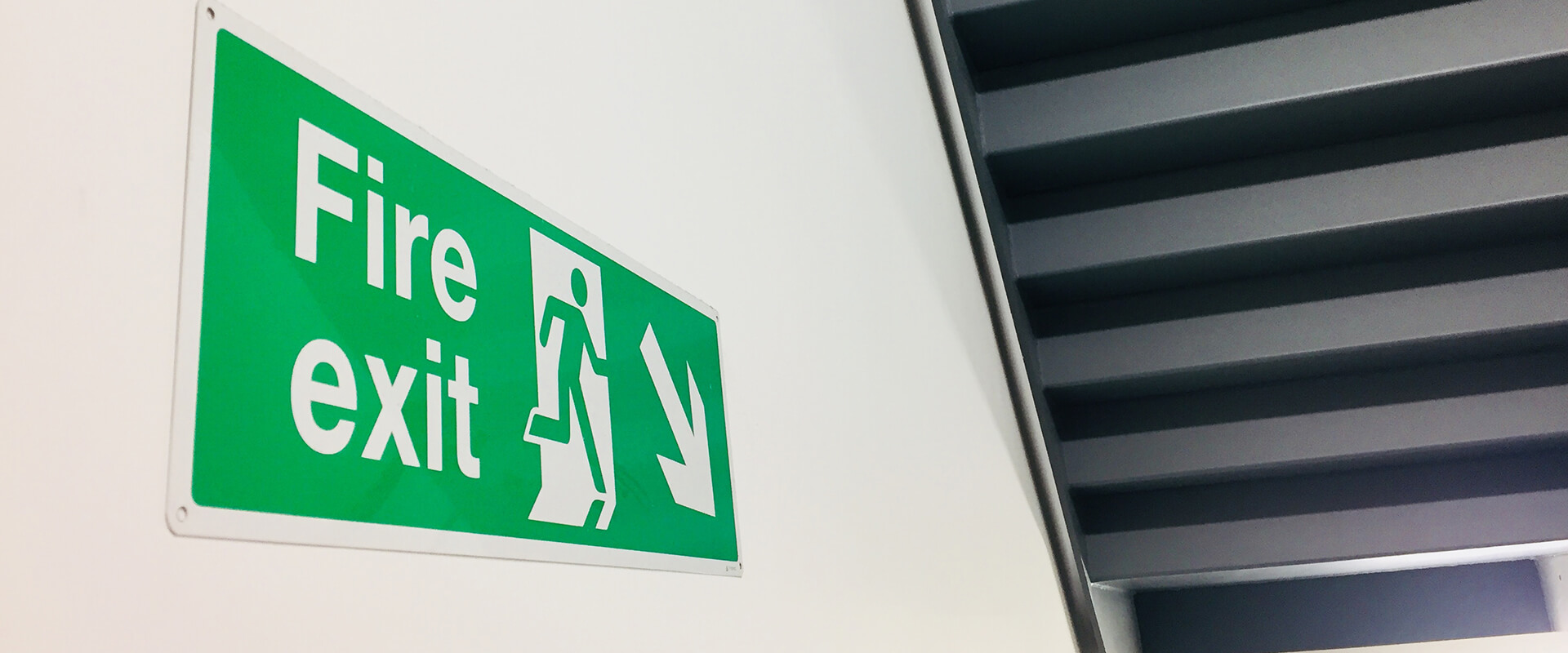 What to do in the event of a fire
It's very important that you know what to do in the event of a fire in your home or building