 Get ready for RED January
A nationwide movement for mental health and wellbeing
Join us on this nationwide movement, RED January – Just choose your favourite activities and get out every day.
As well as having a positive impact on your physical wellbeing exercise is also great for your mental health.
It can reduce anxiety and stress and help you think more clearly, as well as give you better sleep and more energy.
RED January is a national movement to help beat the blues and keep moving throughout in the new year.
You can walk, run, cycle, dance, do gardening or do any activity you wish, as long as you get moving every day.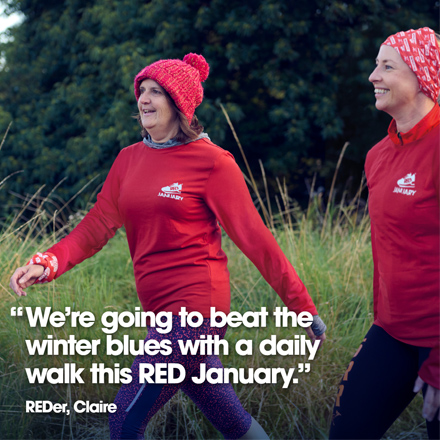 Four reasons why you should join RED January:
1. It's totally FREE to register!
2. Research shows over half of participants experience significant improvements in happiness and a reduction in anxiety
3. You'll be supported by a nationwide community
4. You can help others by fundraising for Sport in Mind (optional)
Sign up and find out more information on the RED January website.