Volunteers muck in at Mudchute Farm
Staff from L&Q escaped their desks for some fresh air and farm work during a volunteering day at Mudchute Farm earlier this month.
Christopher Briggs, Susi Schafer and Katie Shaw swapped spreadsheets and policies for wheelbarrows and hay bales during a day of hard graft at the East-London-based farm.
The trio spent their time mucking out animals including chickens, geese, and goats and carting fencing around London's largest city farm.
---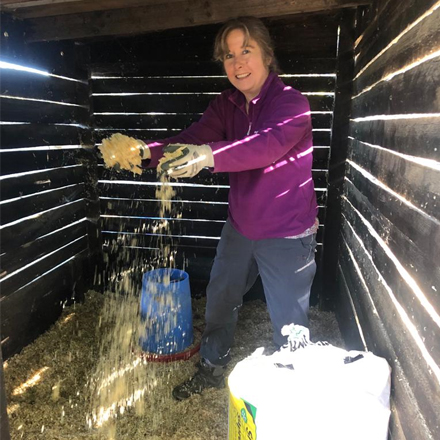 Katie helps to muck out an animal pen
---
Alongside a Mudchute volunteer veteran, the strategy, planning and change team members applied approaches used in their day-to-day work to organise a better working environment for the fence and dump area.
Introducing 5S Lean practices, the workplace methodology is known for eliminating waste, improving flow, and reducing the number of processes.
---
Christopher Briggs, Senior Portfolio Manager at L&Q said:
"We had a brilliant day, and it was a great opportunity to do something different whilst also making a difference in one of the communities L&Q works in. Though it was hard work, it was worth our efforts with the sun shining and a warm welcome from the farm's staff and residents."
---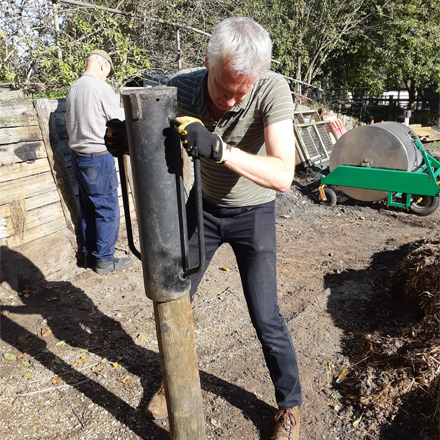 Christopher gets to work using a fence post driver
---
Michelle Douglas, Corporate Volunteer Administrator at Mudchute Farm said:
"Christopher, Susi and Katie worked hard and put so much care and effort into what they were doing. It was all hands-on deck as they cleared out the pens, swept the yard, and sorted out the busy dump area.
As a community-based charity, much of our work relies on the support of our dedicated volunteers, for whom we are very grateful. If you can help us, please get in touch or visit our website."
---
Set in 32 acres of countryside, and just a stone's throw from Canary Wharf, Mudchute Park and Farm is a charity with a working farm, stables, a children's nursery, and a wide range of education activities.
The volunteering day was made possible through L&Q Foundation's programme, which encourages volunteering amongst employees and aims to empower people in L&Q's neighbouring communities to thrive and achieve their potential.
Staff from the charitable housing association are entitled to up to 21 hours of volunteering per year, with more than 90 taking part in a volunteering day last year.
The programme allows colleagues to try their hands at activities that differ from their day-to-day work. From working with supply chain partners to source equipment for a local school, to cleaning and greening outdoor areas in Hackney– volunteering hours can be used at a charity of their choice.
Launched in 2011, L&Q Foundation delivers a range of services and funds local projects that improve people's lives and create opportunities in their communities.
---
Sharon Beaufond, Community Development Lead at L&Q Foundation said:
"Volunteering gives people a chance to give back to their local community in an activity which is true to our organisational values and great for team building too.
Providing employees with the chance to take time out of their jobs to support causes they are passionate about is just one example of how we are engaging with our local communities through our foundation."