Reflecting on L&Q Developments in 2022
Vicky Savage, L&Q Executive Group Director
With the start of a new year, we cannot help but look back at the one that's just passed, so it is my great pleasure to introduce you to some of the Development and Sales team's greatest achievements in 2022, with bigger and better things coming in 2023.
It has been another record-breaking year for us at L&Q in terms of growth and delivery; as our teams helped build new communities, our residents can be proud to name their homes.
We have started work on some major sites, including the former Citroen garage in Hounslow, with The Hill Group, Brent Cross Town with Related Argent and Greenwich Peninsula./
Together, these schemes are set to deliver almost 1,000 new high-quality, affordable homes in some of London's newest regeneration areas.
More than just building homes, we are actively helping communities grow by delivering essential infrastructure.
In 2022 we proudly opened a new Thames Clipper pier at Barking Riverside, as well as a new Overground Station, which London Mayor Sadiq Khan labelled "a game changer" not just for residents, but East London as a whole.
Furthermore, in Beaulieu, Chelmsford, we have recently completed lifting a new bridge connecting the new relief road with the re-aligned Boreham Interchange, serving thousands of Essex residents and commuters.
And it's not just us singing our praises. Our work was also recognised through several top industry awards, including:
First Time Buyer Readers' Awards - Best Large Development - The Quarry
Green Flags Award – Beaulieu
NHBC Pride in the Job Awards - Quality Award – Addiscombe Oaks
Building Awards - Housing Project of the Year – Bream Street
RICS National Awards - The Wilds (Barking Riverside)
---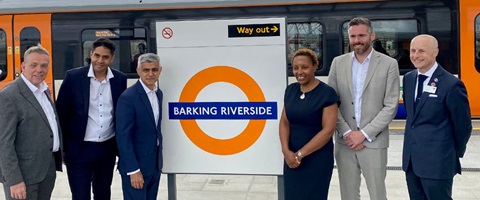 Group image of Sadiq Khan, Darren Rodwell, Andy Byford others at Barking Riverside overground station
---
The quality of our homes even received international recognition, serving as case studies for international events and delegations.
In September, a delegation from New South Wales, including The Hon. Rose Jackson, Member of the NSW Legislative Council and Shadow Minister for Water, Housing and Homelessness, were treated to a day of the tour, taking in sites South Grove, Barking and L&Q Clarendon.
And later, in October, our production team showcased the L&Q MMC (offsite) journey as a successful case study for UK construction innovation at Batimat, in France.
As for 2023, our growth will focus a lot more on existing estates and communities and take a responsible approach to regeneration.
Our development and regeneration team are working on a strategy for our existing stock. They will soon identify several key areas where there is a real opportunity for growth through infill, redevelopment or a combination of both.
L&Q's fresh approach is that we will not just look at the bottom line of new homes delivered but holistically assess stock condition, age, sustainability standards, housing needs, environmental concerns, and the local regeneration environment.
We will then work together with residents, partners, and local authorities to deliver the best possible outcome in doing our part to solve the housing crisis.
Watch this space for further updates, and please don't hesitate to get in touch directly if you have any questions.