L&Q Communities manager joins board of Calm Connections
Zoe Taylor, Communities Manager at L&Q, has joined the board of Calm Connections, the community interest enterprise that provides support to families of children and young people with mental health and wellbeing challenges.
Zoe has worked with the enterprise since they were founded five years ago by CEO Emma Lenihan, and is looking forward to bringing her knowledge of the sector and personal experience of mental health issues to the group.
Zoe said: "Calm Connections is very close to my heart, as not only do I have lived experiences of mental illness, I am also a parent, only too aware of the importance of supporting children and families. Calm Connections provides a haven where the whole family can get support and advice when they need it.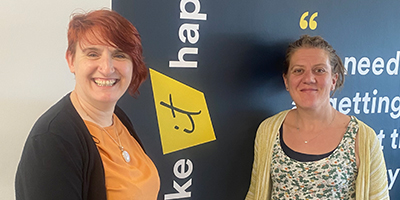 Emma Lenihan (left) with Zoe Taylor
"As a board member I am looking forward to working even closer with Calm Connections and championing their family-based approach towards developing calm, positive relationships and maintaining wellbeing and good mental health."
Calm Connections CEO Emma Lenihan said: "We are delighted to have Zoe join our board. Zoe has supported Calm Connections from our beginning and her wealth of skills, knowledge and understanding of grass root organisations will ensure we continue to grow and become a sustainable organisation supporting Trafford families."
For more information, visit Calm Connections