L&Q and partners celebrate topping out at landmark scheme in Walthamstow
Thursday, 23 September 2021 marked a significant milestone at L&Q, Barratt London and TfL's landmark development; the topping out of Blackhorse View.
The occasion was celebrated by Heidi Alexander, Deputy Mayor for Transport, Andy Byford, London's Transport Commissioner, and Councillor Grace Williams, Leader of Waltham Forest Council, laying the final brick on top of Alder Point, the 21-storey tower which forms the centrepiece of Blackhorse View.
Also in attendance were Graeme Craig, Director of Commercial Development at TfL, Stewart Murray, Strategic Director of Economic Growth & Housing Delivery at Waltham Forest Council, and senior representatives from Barratt London and L&Q.
The development has been made possible through the close collaboration between the development partners, Barratt London, TfL and L&Q, and Waltham Forest Council, making sure that Blackhorse View offers not only a fantastic place to live for new residents but also a range of benefits for the community too.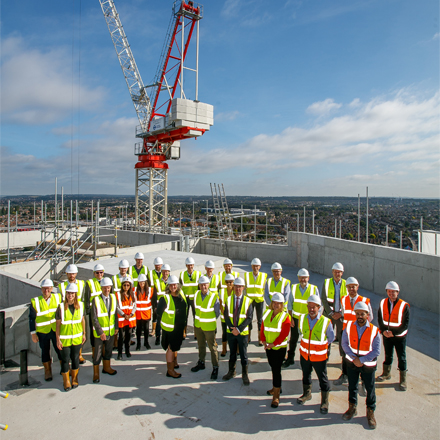 Representatives from L&Q, Barratt London, TfL and Waltham Forest Council on top of Alder Point, Blackhorse View.
The Leader of Waltham Forest Council, Councillor Grace Williams, commented:
"The topping out of Blackhorse View is a key milestone in the completion of the development and its role in the regeneration of Blackhorse Road. Blackhorse View will provide much-needed affordable homes and will contribute to the already thriving local community."
Deputy Mayor for Transport, Heidi Alexander, added:
"It's great to have completed the topping out ceremony at Blackhorse View in Walthamstow. We're proud to be involved in a project that will provide much-needed genuinely affordable homes and support the local economy with additional public amenities, such as the new public cycle hub along Forest Road that will encourage sustainable travel."
Located directly opposite Blackhorse Road station, the 1.82-acre development is bringing forward 350 homes in total alongside 17,500 sq. ft of flexible commercial floorspace. Due for completion in late 2022, Blackhorse View offers a choice of one, two and three-bedroom apartments with enviable views across the Walthamstow Wetlands.
The scheme will create up to 300 new jobs for local people throughout the life of the project, with more than ten apprentices already working on the scheme and a range of opportunities for those who have taken part in TfL's Construction Skills programme. The project is also currently exceeding the requirements of the section 106, which sets out that a quarter of the labour force needs to come from the borough of Waltham Forest.
Through the creation of a shadow board, local students from Sir George Monoux College and Heathcote School and Science College are also gaining the opportunity to learn more about how the joint venture works and the development is being taken forward.
Andy Byford, London's Transport Commissioner, said:
"We are incredibly excited to be celebrating the topping out of Blackhorse View, our development with Barratt London. This marks a real milestone for us and has been made possible by working closely and collaboratively with our partners, Barratt London and L&Q, as well as the London Borough of Waltham Forest.
"We hope that the residents will enjoy their new homes and experience the vibrant culture and opportunities that the area has to offer with a selection of brilliant small businesses on their doorstep. With the site, which includes 50 per cent affordable housing, located opposite Blackhorse Road station, new residents can easily travel into the city and working with the Council, we are making it even easier to walk and cycle in the area."
Blackhorse View is due to become a new destination in its own right; with a choice of stylish modern apartments, landscaped communal gardens and flexible commercial space, which could include the likes of new cafes, fitness facilities, local retailers and shared workspace, when complete. Housing association L&Q is delivering a further 165 affordable homes for both rent and shared ownership.
Kevin Harris, Director of Project Management and Development at L&Q comments:
"It was fantastic to celebrate the progress being made at Blackhorse View with our partners, as this exciting new place continues to take shape. London urgently needs new and affordable homes, and this project will make an important contribution to helping local housing need – whilst delivering transport improvements, shops and facilities which will benefit the whole community."
Steve Thompson, Managing Direct, Barratt East London, adds:
"This milestone is significant for not only the Barratt London team, but the wider community. There have been so many uncertainties for everyone over the past year, so we're really pleased to have reached this milestone; it's a delight to see the scheme progressing and transforming into a destination for everyone.
"By joining forces with TfL and L&Q, we are together ensuring valuable local infrastructure improvements that go community wide and encourage sustainable travel for the capital, such as the new public cycle hub on Forest Road and wider pavements. The vision for Blackhorse View is to create a successful, sustainable place for people to live and work."
Prices for remaining properties currently start from £404,000 for a one-bedroom apartment. For more information about Barratt London or to book an appointment at the Blackhorse View sales suite, visit www.barrattlondon.com or call 0330 057 6666.