Foundation staff gather to reflect on their achievements after ten years of hard work
The belated ten-year anniversary event, which could not be held last year due to coronavirus restrictions, celebrated the amazing things that the Foundation has achieved over the last decade.
Staff shared heart-warming examples of how their work has improved residents' lives and demonstrated through their stories how the L&Q Foundation is there for the people we support, whatever stage of life they are at.
These examples included children who were struggling academically and found their reading and writing skills dramatically improved thanks to extra support from projects funded by Place Makers.
Attendees also heard of a young man whose career progression over seven years was guided by the Employment Support team, who watched with fondness as he climbed the career ladder and started a family of his own.
And the Tenancy Sustainment team shared how an older man who was at risk of becoming homeless after falling into debt when his wife died was kept in his home thanks to their unwavering support, which went as far as supplying furniture to make sure he could live comfortably.
The celebration ended with Fiona Fletcher-Smith and Gerri Scott cutting specially made cakes for staff to enjoy.
---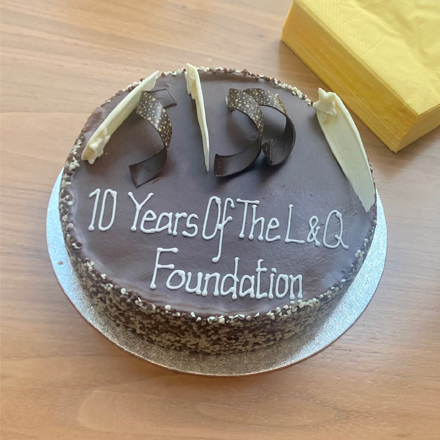 Chocolate cake to celebrate ten years of the L&Q Foundation
---
Sheryl Martin, Independent Lives Operation Manager, who organised the event, said:
"It's been a while since we've been able to do events and see our colleagues from other teams across L&Q face to face.
"This event was a great opportunity to thank Foundation staff and internal partners we work with, as well as raise awareness of our projects and services. We hope it's the first of many events over the coming year as we plan to do lots more to showcase our work and encourage colleagues to refer residents and work in partnership with us.
"The delicious chocolate cakes were the perfect way to round off the celebrations! If your team would like to hear more about our work, please get in touch as we're always happy to come along to team meetings."