Football unites young people across Waltham Forest and beyond!
Over 250 young people came together in Waltham Forest in two community football tournaments sponsored by housing association, L&Q – which included a team of teenage
Ukrainian

refugees.

Organisations funded by L&Q's Get Set Go! project combined efforts for young people in two cross-Borough football tournaments in the Easter half term. In collaboration with Sport England and supported by the National Lottery, Get Set Go! offers funding for community-focused sports, recreation and physical activities.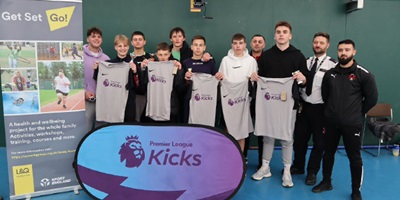 The tournaments took place over two days, with male football on the first, and female football on the second. Contestants came from Waltham Forest and the surrounding areas, entering their football team into one of the four age categories (under 12's, 14's, 16's and 18's). Alongside the matches, prizes were on offer for skills challenges, and both days ended with medal presentations for the winning teams.
The male football tournaments were organised by three community organisations, 2% Sports Group, a platform that connects sports consultancy, coaching and player performance; Footstepz CiC, a community-focused football coaching and mentoring company for 3- to 16-year-olds: and Leyton Orient Trust, the charity arm of Leyton Orient Football Club.
One football team that was welcomed by all was an under-18's team of Ukrainian refugees. After being placed at a nearby hotel, the team was created with UCFB-GIS Board funding the team to train, offering the opportunity to not only enjoy the sport they love but make friends within the local community.
Two representatives from the Met Police also attended the tournament to help improve community relations and promote a safe environment. John Joseph B.E.M., Met's PL Kicks Coordinator of the Metropolitan Police Service, welcomed the invite and said "together, I think we managed to build a degree of trust and confidence between police and a majority of the young people that took part and even managed to deliver some life coaching with some, which was well received."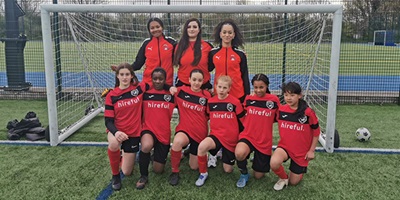 The female tournament aimed to build on the success of the women's Euros and World Cup. Leyton Orient Trust trained participants in the run up, with 12 weeks of practice sessions at Holy Family School. Leyton Orient Ladies FC players were on hand to support the contestants during the day and ran skills workshops between the matches at the Ive Farm Sports Ground.
Both tournaments were well received by participants, parents and coaches from the local area.
Prince, aged 14, who has attended Leyton Orient Kickz sessions for nearly three years, said,
"Lots of kids don't have chance to do things like this in the holidays, and [it] gives us a chance to make friends. We get to have extra skills training which will help in becoming a pro footballer. We would like more community tournaments, they are good to make friends and socialise."
Josh from London Football School, who teaches under 14 girls, said,
"I think tournaments like this for girls are amazing because I think girls really need to be exposed to football. They need to really believe that they can go as high as possible in football. I think since the England girls have won the world cup; I think girls' football has elevated even more. If we can get more tournaments out there, more girls would be interested. Even if it's not just academy tournaments, but community tournaments, I think it's going to be a positive for girls' football."
Matt Corbett, Director of L&Q Foundation at L&Q said,
"the football tournaments were a huge success, mainly down to the organisations who brought the tournament together, all of whom have lived experience of working with young people and have already established relationships within the community.
"I'm extremely impressed by the level of skills, confidence and sportsmanship from every single participant of the two-day tournament. We hope that through projects like Get Set Go! and others, we can continue to inspire young people to be active and offer opportunities to help them follow their sporting passions."
For further information, please visit L&Q's Get Set Go