Employment Support Jobs Fair
On Wednesday, 14 June, 431 people were welcome through L&Q's doors for the first in-person Employment and Skills Jobs Fair since the pandemic, hosted by the L&Q Employment Support Team.
The L&Q offices were transformed into a bustling hive of activity with L&Q residents and members of the local community there to meet the 20 employers attending.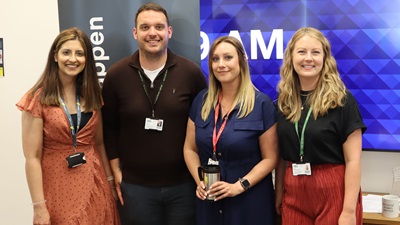 On offer was the opportunity to meet and learn more from each employer, who offered attendees up to 600 live job vacancies. From admin to construction, logistics to customer services, there was an opportunity for everyone. A number of L&Q's Major Works Investment Programme Partners were in attendance; including Durkan, United Living, Morgan Sindall Property Services, Wates, Axis Europe and Equans, as part of their continued commitment to providing local jobs for local people.
Siddharth K. Varu attended with a wealth of academic experience to bring to the table, including a master's in business management, was looking for new roles in Administration and had a positive response from the employers he spoke to.
He said today,
"went excellent, and the companies and their representatives were really nice and friendly."
Of the employers in attendance, TTLP Properties, part of Transport for London, was there to discuss construction opportunities and office roles from Apprenticeships and Grad Schemes to Engineering and Project Managers.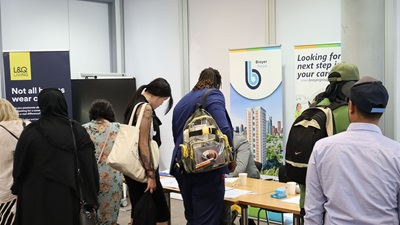 Ashely Samuels from TTLP said the Jobs Fair,
"has been great, I love attending these events. I've seen lots of work-ready people or those who are interested in getting some training and upskilling, so really pleased I came. It's been really beneficial for us."
Matt Bayliss, Head of Independent Lives, said,
"It has been great to introduce our first in-person Employment Support Jobs Fair after the pandemic and see it so well attended. We've supported over 400 people by introducing them to 20 employers, all with live vacancies. There will be a long-lasting impact from today, which is just what we aim to achieve through the Employment Support Service.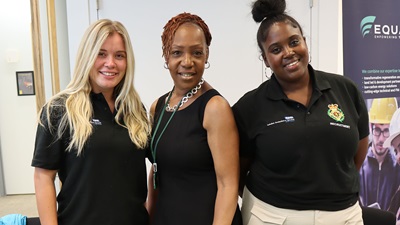 Learn more about the Employment and Skills Support Service or speak to one of the team today.