Community celebrates restoration of historic spire designed by famous architect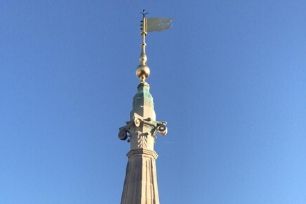 L&Q has teamed up with Heritage of London Trust to restore a spire designed by one of Britain's most famous architects, Sir Christopher Wren.
Wren Spire is 330 years old, stands 47 metres (154 feet) tall and is a Grade II listed building.
These days it can be found in the middle of one of our housing estates in Round Hill, Forest Hill, south-east London.
But that wasn't always the case. 
Its home was originally on top of St Antholin's church, in the City of London. Since then, it was moved several times, until it came to Forest Hill in the 1880s, after being bought by Robert Harrild, the wealthy owner of Round Hill House.
He paid £5 for it and promptly kept the spire in the garden of his manor house. 
Over time, the spire decayed and was severely damaged by the wind and rain. The weathervane had become unstable and some parts were even decaying.
So together with Heritage of London Trust, we've contributed £13,000 to the restoration of the spire. Four people from London Stone Conservation completed the restoration work.
On 29 November a ceremony was held to relaunch the restored spire, attended by local residents, school children, L&Q staff, Historic London and London Stone Conservation. 
"We're so pleased to be part of the restoration of Wren Spire," L&Q's Neighbourhood Assistant Director, Laura Hallett, said.
"It has a brilliant survival story and is a great chance for people to get up close to a unique piece of British architecture. We hope that by bringing school children here today we're inspiring the Sir Christopher Wrens of the future."
One of those school children, ten-year-old Freya Joseph-Howe, told the South London Press, "I loved cutting the ribbon for the spire today. I'm going to bring all of our family up to see it – our mum, our auntie, everyone!"
Sir Christopher Wren helped mastermind the rebuilding of London after the Great Fire in 1666 and is perhaps best known for his involvement in the construction of St Paul's cathedral.