Work set to start on latest phase of Loves Farm development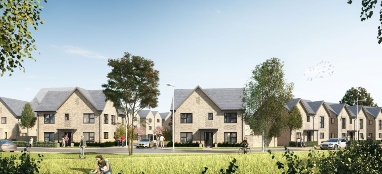 Council planning bosses have backed the latest phase of the Loves Farm development at St Neots, Cambridgeshire in a meeting on 26 June.
The proposals, by L&Q, one of the UK's leading charitable housing associations, will see 41 new homes built, in a range of sizes from one-bedroom apartments to larger four-bedroom houses for families. L&Q will deliver 40% affordable housing to help meet local need.
Loves Farm has seen substantial investment in homes and infrastructure, with 1,200 homes already built in the first phase of the development.
L&Q's latest homes have been designed to reflect the unique character of this part of Cambridgeshire, and will include a combination of town houses, family houses and an attractive contemporary mews in the centre of the site.
The homes will be built using innovative new Modern Methods of Construction techniques, with timber frames being manufactured off-site and transported to Cambridgeshire.
As a charitable organisation, L&Q's role goes beyond providing homes and housing services. The housing association is a long-term partner in the neighbourhoods where it works, investing in communities via its £250 million Foundation and Skills Academy.
The team anticipates work starting on site in October 2019, with the homes completed by July 2021.
Fiona Whyte, Head of Land & Acquisitions (Counties Region) at L&Q said, "We're delighted that Huntington District Council has approved our plans for the latest phase of Loves Farm. At L&Q, we believe that everyone deserves a quality home they can afford, and these proposals will make a substantial contribution towards local affordable housing needs."
"We look forward to working with the local community as we continue our journey at Loves Farm."