L&Q calls on local partners to shape community investment priorities for Essex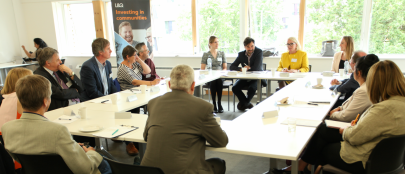 Last week, L&Q convened a roundtable of local councillors and groups from across Essex to discuss our future community investment priorities for the region.
The event was held as L&Q announced plans to expand into the region, building quality affordable homes whilst investing in local initiatives and the economy.
Our investment package will support projects and community activities through our £250 million charitable Foundation – set up in 2011 to bring together our social and economic programmes.
The roundtable was attended by a broad range of local organisations including Colchester Borough Council, Chelmsford City Council, the Essex Chambers of Commerce, the Haven Gateway Partnership and the Essex Community Foundation. The discussion focused on three key topics: enterprise, physical infrastructure and community.
The input from these discussions will be used by the L&Q Foundation to help inform its bespoke regional investment and partnership package for the region, which will be announced later this year.
George Kieffer, Chairman of the Haven Gateway Partnership, said: "We don't just need to build more homes in Essex, we need to build homes that are part of sustainable communities and that people want to live in. L&Q has the opportunity to be a catalyst in working with local authorities and other partners to pioneer a community-led approach to delivering long-term, successful, integrated neighbourhoods with the facilities and infrastructure needed to sustain them."
Vivienne Wiggins, Trustee of the Essex Community Foundation and Chief Executive of Beacon House Ministries, said: "Mental health is a big issue in Essex and isolation is a significant contributing factor. We need inclusive communities to help make a positive impact on people's lives. It's great to hear that L&Q has a person-centred philosophy to help promote inclusivity in their housing communities."
Matthew Corbett, Director of the L&Q Foundation, who co-chaired the event, added: "Our ethos is to take a proactive approach to understanding the specific investment needs and opportunities for each area we operate in to be able to deliver a positive impact for the communities we serve."
Research undertaken by Colchester Borough Council has shown that the borough will need an additional 14,720 new homes between 2013 and 2033 to meet housing need. Further research by Braintree District Council shows that the area will require a minimum of 14,365 new homes in the same period.
L&Q is already active in Essex with ambitions to provide 800 homes across the county over the next two years, of which one third will be affordable. This summer, L&Q will launch the next phase of homes at Beaulieu, a large-scale development providing quality homes with exceptional community facilitates on the outskirts of Chelmsford.
Launching in spring 2020, The L&Q Arbour development in Beaulieu will provide an additional 255 homes through shared ownership on a 604-acre site that was once owned by King Henry VIII as his summer residence, Beaulieu Palace.
In addition, the proposed West Tey Garden Community has the potential to deliver at least 17,000 new homes for Essex over the next 30 years including significant physical and social infrastructure.