Bow Road development makes local impact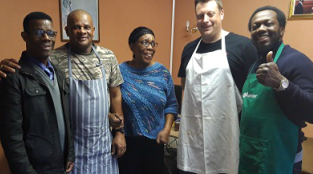 Our development in Bow, East London, has been commended by the Considerate Constructors Scheme and received praise from the local community.
The Bow Road development will deliver 89 new homes in four new apartment blocks in the London Borough of Tower Hamlets. ​The project was built by our East Region Operations team, who have been on site since August 2016.

The project was recently commended by the Considerate Constructors Scheme for the positive impact it has made in the local community. In particular, we were praised for our ongoing support of the neighbouring Green Light Youth Club.

Since being on site we've upgraded some aspects of the listed building where the youth club is based and donated some furniture and equipment. We've also supported a successful Christmas lunch and worked with local schools to promote careers in construction.

The youth club praised our presence in the area: "They have been great neighbours, helped us in a lot of ways and been really considerate of our events. Specifically, cleared up broken glass for us (they did not cause), repaired and heightened our fence and provided a skip to help us. We're going to miss them."
Liam Duffy, Operations Director (East Region) said, "I'm delighted that my team's work at Bow Road has been recognised. As a charitable organisation, L&Q recognises that its role goes beyond providing homes and housing services.
"From supporting community initiatives to helping local residents gain careers in construction, we are committed to making a real and lasting impact in the communities we work in."
The project will be completed in July 2019.

Pictured: Christmas lunch 2018 at the Greenlight Youth Club.