L&Q expansion reaches milestones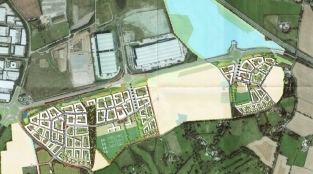 L&Q has reached key milestones in its geographical expansion plans.
On Monday 5 Nov it received planning approval for a 225-home scheme in Milton Keynes, marking the first approval for land drawn from its strategic land subsidiary Gallagher Estates.
And on Wednesday 7 Nov, its plans to build 60 homes in Tiddington, Warwickshire, also received unanimous approval from planning chiefs. This marks L&Q's first move in a new region.
It also plans to submit planning for 450 homes in Gallows Hill, Warwick by the end of the year.
Glebe Farm in Wavendon, Milton Keynes is a large plot of land which is owned by Gallagher Estates, a wholly-owned subsidiary of L&Q. The development will eventually include two schools, shops, a GP centre and various leisure spaces.
While Tiddington will provide 60 new homes with a community focus, clustered around a series of three attractive new greens.
In October 2017, L&Q formed its new Counties team, who will be tasked with moving into new regions including the Midlands.
The charitable housing association, which has historically built in London and the South East, has plans to deliver 100,000 homes over the next ten years.
Around 60% will be built or funded in-house while the rest will be delivered through partnerships , such as that with Trafford Housing Trust in Greater Manchester.
Craig Luttman, Managing Director for the Counties region, said:
"L&Q recognises that the housing crisis is a national issue. Our response has been to expand our operating area outside our traditional heartlands of London & the South East. Securing planning consent for these first two sites is a milestone event, as they demonstrate L&Q's capabilities in fulfilling the master developer role. From promoting the sites through to outline consent and infrastructure delivery by Gallagher Estates, to building out the new homes and creating communities as L&Q. We have an absolute focus on quality in the design and the build, and also in the service that we provide to our customers in perpetuity once the schemes are completed."     
PRP led the planning application for L&Q's Milton Keynes scheme and is also appointed to masterplan and design the landscape elements. Manisha Patel, senior partner at the practice, said:
"We have worked with L&Q on a number of its developments in London and the South East, so we are pleased to be continuing this successful partnership further afield in what will be a significant development for its newly formed Counties region. Our planning, architect and landscape architect teams worked seamlessly to design a sympathetic masterplan on behalf of L&Q, which has now achieved planning permission. As works progress, we look forward to seeing the shared vison a for successful community-led development come to life at Glebe Farm in Milton Keynes."
Christine Goldsmith, Director – GSA, said:
"It has been a great opportunity for our practice to work with the new L&Q Counties team – supporting them in their drive to deliver greatly needed homes and to achieve a high build quality, through off-site production techniques. At GSA we believe that great townscape is an essential element of lasting, sustainable development and a positive influence in people's lives. Our role at Tiddington was to bring together the houses and public realm design to create exemplary placemaking.  We re-envisioned the outline masterplan to create a series of community-focused greens with an intimate scale appropriate to the village edge setting. Along with locally made bricks and local brick detailing this will create a high quality development with a cohesive village character that resonates a strong sense of place."
ENDS
Notes to editors
About L&Q
L&Q is a regulated housing association and one of the UK's most successful social businesses.
We house around 250,000 people in 92,000 homes, primarily across London and the South East.
As a not-for-profit organisation, we reinvest all the money we make into new and existing homes, creating successful communities and providing excellent services.
We will tackle the housing crisis by building 100,000 new homes over ten years. At least 50% of these will be genuinely affordable, with a target of 60% in London.
We invest in a £250 million community Foundation and £5 million a year skills academy to build opportunity and confidence in our communities.
About PRP
PRP is an interdisciplinary, design-led practice with over 50-years' experience in housing design and urban planning. We deliver intelligent, responsive and enduring design solutions through a collaborative and knowledge-based approach. With our extensive team of architects and professional services we create places of distinction and purpose.
Our approach focuses on communication and understanding. With thought, experience and innovation, PRP aims to meet the needs of the client and wider community. Through internal review and commercial awareness, our integrated specialist teams are able to fully understand the brief and guide its development and direction. We have a diverse and award-winning portfolio that demonstrates our ability within the various housing sectors. We believe that all housing should be efficient, affordable and capable of creating lasting communities.
PRP employs more than 250 staff with studios in London, Manchester and Surrey. Our work is primarily UK-based, although we have experience of international projects.
For further information on this release please contact Lauren Ambrose at Holistic on 07714 587 184 or email lauren@holisticgroup.co.uk .