L&Q and Homes England announce landmark strategic partnership to accelerate delivery of quality new affordable homes outside London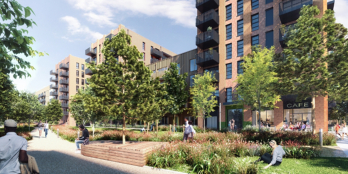 L&Q and Homes England have today announced a landmark strategic partnership that will significantly boost the housing association's plans to build 100,000 quality new homes over the next decade.
The new partnership, which includes £85 million in additional grant from Homes England for the period up until 2022, will enable L&Q to increase the total number of homes it delivers outside London. Furthermore, the strategic partnership aims to increase L&Q's starts on new homes outside of London from 15,000 to 45,000 over the next ten years. Crucially, the two organisations will use their collective skills and capacity to ensure that at least 50% of the new homes L&Q builds through this partnership are genuinely affordable.
Fiona Fletcher-Smith, Group Director of Development and Sales at L&Q, said: "L&Q is committed to working with our partners at all levels of government and the wider housing sector to tackle the housing crisis.
"When we acquired strategic land company Gallagher Estates last year, one of our objectives was to work with partners to help accelerate supply. Today's announcement creates a cornerstone partnership that will help us achieve that."
She added: "We see L&Q's and Homes England's ambitions as being totally aligned. L&Q already has the experience, capacity and focus to build quality homes in thriving communities for our current and future residents. This new partnership means we are at the cusp of delivering a quantum step change in the delivery of quality affordable housing across Britain."
In total, Homes England will provide a funding package of just under £590m through to March 2022 to support the first wave of  strategic partnerships. 
Speaking about the funding package, Rt Hon James Brokenshire MP, Secretary of State for Housing, Communities and Local Government, said:
"There is no mission more urgent than making our housing market work, and we are investing £9bn in building affordable homes.
"This £590m fund we are giving Homes England will help housing associations accelerate the delivery of affordable properties communities need."
Nick Walkley, Chief Executive of Homes England, said:
"When we launched Homes England, I called on housing associations to work with us to develop ambitious strategic partnerships that would help them to get on and build significantly more affordable homes than they were previously planning. After a huge amount of hard work, these new deals show our real determination to combine ambition, flexibilities and the full range of our resources to change the way we deliver affordable homes.
"This is a very important day for us but we have no intention to stop here. Over the summer, we will work to expand the eight deals to become even more ambitious while agreeing a second wave of strategic partnerships with other ambitious housing associations. This is a fantastic opportunity for the sector to up its game and get more affordable homes built more quickly."   
This is the latest partnership that L&Q has agreed as it seeks to deliver the most ambitious development plans in housing association history:
In London, a strategic partnership with the Mayor of London up to 2021 will see L&Q build 20,000 new homes across the capital, with 60% of these genuinely affordable.
Another exciting partnership between L&Q and SME housing associations, supported by the Greater London Authority, is unlocking smaller sites across the capital to deliver hundreds of social rented homes.
In North West England, a joint venture between L&Q and Trafford Housing Trust will deliver at least 2,000 much-needed new homes.
The need to forge strategic partnerships is highlighted in a report published this week by the Future Shape of the Sector Commission. The Building Homes, Building Trust report – co-sponsored by L&Q – argues that partnerships are vital as housing associations tackle the current housing crisis, prepare for a post-Brexit world and adapt to a dramatically changed operating environment.*
*The Building Homes, Building Trust  report states that more than 300,000 homes a year are required to meet the country's housing needs, and housing associations like L&Q are uniquely positioned to respond by deploying patient capital if they have substantial balance sheet strength, cashflow generation and strong risk management. Having the strategic support of partners like Homes England provides additional certainty and can give housing associations the confidence to do more.
The report also argues that Modern Methods of Construction (MMC) will be a "key way of scaling up production without growing costs commensurately" and suggests that Homes England can play a crucial role through investment and rallying housing associations behind a unified solution. L&Q and Homes England will both be exploring how to make best use of MMC as part of their new partnership.