New £100m initiative will unlock small sites and create 1,000 affordable homes for London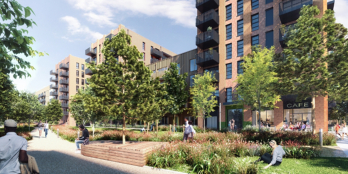 The L&Q Foundation has today kick-started a £100 million initiative with nine leading London-based black and minority ethnic housing associations and the Greater London Authority which will create hundreds of new affordable homes.
The ground-breaking strategic partnership will unlock small sites across the capital to deliver around 300 homes a year, reaching a total of 1,000 by 2024 as more partners come on board. Grant funding from the GLA means that 100% of these new homes will be genuinely affordable.
A brand new specialist team will be created within L&Q to procure land and develop homes on behalf of the partner organisations. The team will focus on small sites (less than 50 homes) and also identify opportunities for infill and redevelopment.
The housing association partners include Inquilab HA, Westway HA, Tamil HA, Imani Co-op, North London Muslim HA, Odu Dua HA, Ekaya HA, Shian HA and Industrial Dwellings Society (IDS). It is hoped that other SME partners will join the initiative as it gathers momentum.
The initiative will be funded through the L&Q Foundation, which has a capital fund of £100m to invest in charitable activities that help L&Q achieve its social objectives. L&Q will support the partners to secure external long-term finance, and then sell them the completed homes at cost.
Waqar Ahmed, Group Director of Finance at L&Q, said:
"As part of L&Q's ambition to build 100,000 quality new homes over ten years, we want to enable small and medium-sized organisations to deliver homes that wouldn't otherwise be built.
"We have already established joint ventures with medium-sized organisations, such as our partnership with Trafford Housing Trust which is delivering at least 2,000 new homes across Greater Manchester and the North West.
"Through this exciting new partnership, we can now support smaller associations to increase their stock of high quality, social housing, by leveraging L&Q's capacity and expertise.
"Everything that L&Q does begins with social purpose and we want to help harness the huge potential in our sector to create homes and communities we can all be proud of. Through our charitable L&Q Foundation, we can support like-minded partners to realise their own ambitions and increase investment in homes, communities, apprenticeships, jobs, innovative methods of construction and economic growth for years to come."
James Murray, Deputy Mayor for Housing and Residential Development, said:
"This scheme is exactly the sort of programme that the Mayor hoped for when he encouraged housing associations to think creatively about increasing the number of genuinely affordable homes in London.
"The Mayor has been encouraging small and medium-sized organisations within the housing sector to be ambitious and to deliver more genuinely affordable homes, and this programme is an innovative way to address some of the challenges that smaller housing associations face.
"Tackling the housing crisis requires a broad coalition of organisations to come together, and I am delighted that the L&Q Foundation and members of the BAME London group of housing associations are moving forward with these exciting plans."
Gina Amoh, Chief Executive of Inquilab Housing Association said:
"Collaboration with a larger partner will help smaller HAs achieve economies of scale, ensure better risk management and realise value for money. We want this to be a flagship example of how larger HAs and the GLA can help support smaller HAs to develop and help increase supply of affordable housing."
The partnership has been facilitated by specialist housing consultancy Altair, and Devonshires solicitors.