Special memorial bench unveiled for L&Q resident who went 'above and beyond' for neighbours
A memorial bench has been unveiled on an L&Q estate to remember a resident who always went 'above and beyond' for his community.
The bench has been opened to honour Brian Wilks, who died on 11 April 2021, at the age of 84, who was an avid campaigner for the neighbourhood he lived in for nearly 60 years – the Beaumont Estate.
Mr Wilks led the Beaumont Tenant Residents Association with pride and determination and a dedication to better the lives of other L&Q residents on the estate.
With his wife, Margaret, he was the third resident from the estate to become a leaseholder.
He had been involved with L&Q from the very start. He became Chair of the Residents Association in 1998, and was also the Vice-Chair of the North East Neighbourhood Committee.
As a hugely respected member of the neighbourhood, Mr Wilks regularly liaised with residents on behalf of L&Q, ensuring their voice was always heard. This included the stock transfer of the Beaumont Estate, and later, its regeneration, during which he worked with contractors to ensure important areas were improved.
He also made it his mission to help reduce antisocial behaviour on the estate, working closely with L&Q on this as well.
So strong was his sense of community spirit, Brian ran the Leyton Tea Dance with Margaret from 2001, giving elderly neighbours the opportunity to meet, have a chat, a cup of tea or even a dance.
The couple always opened their door to support other residents in need – nothing was too much trouble for them and they always went above and beyond.
---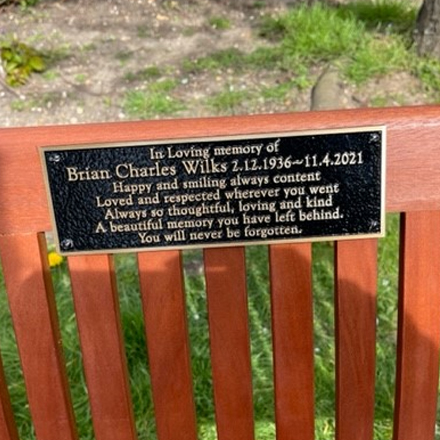 A close-up view of the metal plaque on Mr Wilks' memorial bench
---
The bench, which was funded by L&Q and was unveiled earlier this month (11 April) includes a heartfelt poem on the metal plaque.
It says: "Happy and smiling always content, loved and respected wherever you went. Always so thoughtful, loving and kind, a beautiful memory you have left behind. You will never be forgotten."
Members of the community, including Councillor Simon Miller, gathered to pay their respects to Mr Wilks and his family.
Liz Cunningham, L&Q's Regional Manager, said:
"We're delighted to have been able to provide a bench in the community Mr Wilks loved so much and always went above and beyond for.
"He worked tirelessly to help residents at the Beaumont Estate, and it's only fitting his neighbours have somewhere to reflect and remember him."