Seventh Chelmsford Marathon and new half marathon route brings hundreds of runners to the city
The Chelmsford Marathon and Half sponsored by Beaulieu brought a sea of lycra and trainers to the city last Sunday in support of Havens Hospices.
This year's popular event, managed by the event race management company Nice Work, took place on Sunday 17 October 2021 after the charity was forced to postpone last year's race due to the Coronavirus pandemic.
Nearly 900 runners crossed the finish line located in the beautiful Central Park, after starting either 13.1 miles and 26.2 miles of running in the High Street before pacing through the streets of Chelmsford and surrounding pretty countryside of Essex.
By participating, runners have helped to raise vital funds for Havens Hospices, an Essex wide charity that provides palliative nursing and supportive care to children and adults living with complex or incurable conditions.
The event was also the platform for this year's Essex Road Race Championship and Police Running Championship with runners signing up from up and down the county and country. Local station Chelmsford Community Radio was in attendance providing music and entertainment at the start and finish.
The fastest male of the Chelmsford Marathon Half was James Nial from Felixstowe Road Runners who finished in 1 hours 15 minutes. James first completed the Chelmsford Marathon in 2019 and he said: "The event was absolutely great, I loved it. The support we received was amazing from the crowds and marshals, the atmosphere was electric. It was great as well to finish with one of my fellow Felixstowe Road Runners who came second."
Chris Burgoyne from the Springfield Striders running club was the fastest male who completed the Marathon route in 2 hours and 34 minutes. The fastest female was Anna Farello in 2 hours and 54 minutes.
Terry Knightley from Leigh-on-Sea is a member of the Ilford Athletic club and has been running marathons in the UK and abroad for the past 35 years. He picked up the award for Fastest Male Veteran Over 60 after completing Sunday's marathon. He said: "The Chelmsford Marathon was a fantastic and well organised event - the atmosphere was electric. This was probably my last ever run at a marathon distance and my goal was to win the Male Veteran Over 60 age category for the race which I did finishing in 3 hours and 8 minutes and 11 seconds.
"I would highly recommend this annual race to anyone contemplating running a marathon as the organisation, marshalling and whole atmosphere is so excellent - especially with every finisher receiving a medal and t-shirt and the post-race energy bars! I really enjoyed the whole day and if I ever did another local marathon this would be it."
The Chelmsford Marathon and Half were sponsored this year by Beaulieu, the new neighbourhood by Countryside and L&Q in Chelmsford. They entered an impressive team of staff and residents in support of the event.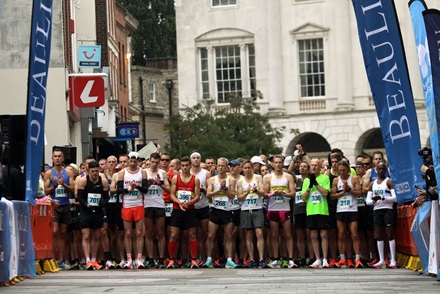 Marathon runners at the starting line
Daniel Hearn from Countryside completed the half marathon alongside several of his colleagues. He said: "It was a great event and clearly very well supported on the day. I do run regularly to keep fit but this was one of my first running events that I have participated in. I beat my time I initially set for myself finishing in 1 hour and 38 minutes which I was so pleased with. I would definitely consider taking part again in future events."
Martin Leach, Managing Director, Strategic Land and Major Projects, Countryside said:
"The care that Havens Hospices provides for its patients and their families across Essex is so important and without a doubt the last 18 months have been tough for everyone but especially those that are caring for others. We hope that Beaulieu's sponsorship of this year's Chelmsford Marathon and Half has helped to shine a spotlight on Havens Hospices and the work that they do. We'd also like to thank everyone for making the day superb and for helping to raise vital funds."
Neil Davis, Director of Development Delivery at L&Q said:
"We were delighted to support the Chelmsford Marathon and Half in honour of Havens Hospices – a charity which performs a vital service supporting and caring for people across Essex. We'd like to say a huge thank you on behalf of the entire Beaulieu team to everyone who volunteered their time and energy towards making this event a success."
Jane Hopkins, Voluntary Income Area Team Leader at Havens Hospices added:
"We are so very grateful to our fantastic sponsors at Beaulieu, everyone who took part in both races and raised money for Havens Hospices plus all of our amazing volunteers who worked so hard to make the day such a big success. We could not have put on this event without you all.
"Havens Hospices relies on public support to continue our care so after a difficult 18 months of fundraising we have been overwhelmed by the support and donations. This will make a real difference to the lives of the children, young people and adults we care for and their families, so thank you to everyone for helping us continue our Vision of 'Making every day count."
To find out more about Havens Hospices upcoming running events, follow @HavensEvents on Facebook or visit www.havenshospices.org.uk/events.
For more information about Havens Hospices and how they are 'Making every day count' for children and adults across Essex, visit the Havens Hospices website.