L&Q volunteers help foodbank support the local community
Four L&Q staff members swapped their housing day jobs for donation sorting, helping to feed local people facing hardship in Barking and Dagenham.
Alex, Deborah, Liana and Jenny rolled their sleeves up and lent a helping hand at the Hope Family Trust Food Bank on Thursday 24 March.
During their 'fulfilling' day out of the office, the team spent the time sorting through food items and preparing crates for delivery.
Alex Cooper, Caretaking Supervisor at L&Q, said:
"The amount of organisation, work and focus that goes into supplying those in need with food is much more than what you'd expect.
"Hearing about it on the radio is one thing, but when faced with what actually goes into the work, my appreciation for those that run and volunteer at foodbanks has gone through the roof."
Funmi Ikele, Project Manager at the Hope Family Trust Food Bank, said:
"As more people in the country turn to food banks, we are very grateful for the support of our volunteers, many of whom contribute their time and skills in a variety of ways.
"We anticipate increased demand on our service as food and fuel prices continue to grow. If you can help us, please get in touch or visit our website."
---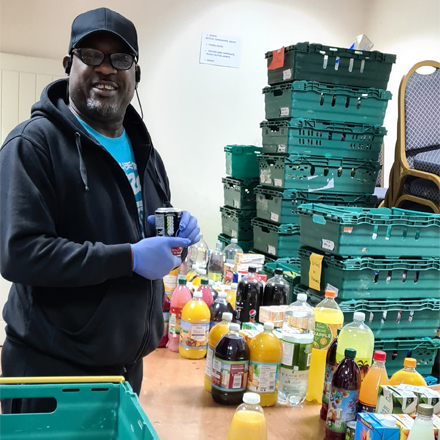 Alex preparing a food crate for delivery
---
The activity was part of L&Q's volunteering programme, which encourages volunteering amongst employees and aims to empower people in L&Q's neighbouring communities to thrive and achieve their potential.
Staff from the Stratford based housing association are entitled to up to 21 hours volunteering per year, with more than 90 taking part in a volunteering day last year.
The programme allows colleagues to try their hands at activities that differ from their day-to-day work. From working with supply chain partners to source equipment for a local school, to cleaning and greening outdoor areas in Hackney– volunteering hours can be used at a charity of their choice.
Inspiring colleagues to volunteer is just one example of how L&Q is investing in local communities through their £250m Foundation.
Working directly with residents in 2020/21, projects delivered through the L&Q Foundation supported 300 people into paid employment, and helped 543 residents sustain their tenancy, through a wide range of services including access to financial support. Over £15m was raised through Pound Advice, a service that helps people manage their debts, resulting in a record year of financial gains for residents.
L&Q's award-winning Learning to Succeed schools programme, which delivers STEM and careers activities across 30 schools and 11 boroughs, has engaged with over 16,000 students over the last three years.
Matthew Corbett, Director at L&Q Foundation, said:
"Driven by our social purpose, we are committed to helping those bearing the brunt of the biggest squeeze on living standards on record.
"We couldn't do this without our network of passionate colleagues, for whom supporting people is a vocation rather than just a job."
L&Q is supported to deliver their volunteer programme by ELBA, a registered charity that has over 30 years of experience in enabling successful partnerships between business and the East London Community.
Sharon Beaufond, Community Development Lead at L&Q said:
"ELBA ensures involvement in local community organisations is channelled in a way which targets a local need, whilst delivering effective and skills-based initiatives to support our employees to give back in a way which helps them feel positive about their contribution."