L&Q Foundation and Sport England Kick Off 'Get Set Go'
The L&Q Foundation has kick started its Get Set Go project with Sport England, supported by the National Lottery.
Sessions have been held at the Beaumont Estate in Waltham Forest and the Silwood Estate in Southwark, to find out what sporting activities should be delivered across the areas.
Marking the start of a major new partnership, Sport England has awarded the L&Q Foundation £400,000 to deliver a two-pronged project across multiple L&Q owned and managed estates. The first element will see physical activity programmes delivered across the Beaumont and Silwood Estates, with activities chosen by residents themselves. The second, due to launch in 2022, is a way-finding project across Greenwich Peninsula.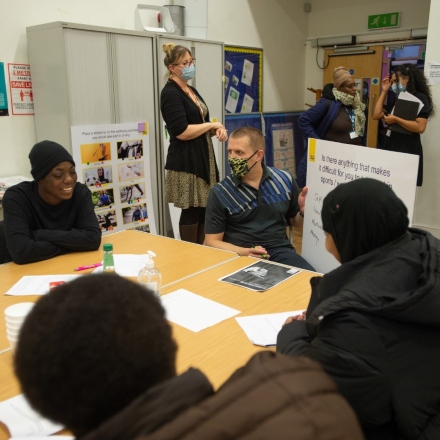 Almost 70 people attended the two in-person consultation events held on the estates – giving their views on what physical activities they would like to see delivered in their local area. In addition to the live events, online surveys have been sent out to all residents, capturing more views. Chosen activities based on the consultation will be commissioned from 2022.

Local resident Uche, who has lived on the Silwood Estate all his life, said: "Sport is an amazing way to improve confidence and build other life skills. It was good to give my views. Personally, I would like to see some more team sports in the area because I play football, but I am also really interested in trying new things, like Yoga."

The funding was awarded to the Foundation in its 10th year of operation. Part of the L&Q Group, the L&Q Foundation brings together all of L&Q's social and economic programmes. It has invested over £50 million in projects and services since its founding in 2011.

Get Set Go is the second project that the Foundation has been awarded Sport England funding to deliver. In 2020, the Foundation made use of Sport England's Tackling Inequalities fund to offer increased services during the Coronavirus Pandemic.

Matt Corbett, Director of the L&Q Foundation, said, "Sport and physical activity undoubtedly creates great opportunities for individuals and whole communities, which is why our continued partnership with Sport England is so important to us.

Our vision is that sporting activities commissioned will be delivered by local organisations and resident-led groups. This means programmes are run by people who really know and understand their local areas, and also gives the groups opportunities to capacity build. The consultation process marks the start of this project, another milestone in the tenth year of the L&Q Foundation."

Trudi Else, Strategic Lead Facilities and Planning from Sport England, said, "The pandemic has shown us that's never been more important for us to get active. However, getting active needs to be easy and accessible. So we are proud to support Get Set Go; communities are more likely to stay active when the opportunities to do so are right on their doorstep. Local, inclusive opportunities to get active are a core part of Sport England's 10-year strategy Uniting the Movement."