L&Q residents celebrate the Platinum Jubilee in style
Kennington sheltered accommodation residents enjoyed a platinum jubilee party fit for a Queen.
L&Q's Woodstock Court, in Kennington, celebrated the Queen's official 70-year milestone by hosting a themed garden party with family and friends.
Community leaders and local councillors mixed with residents from Woodstock Court and other neighbouring L&Q and L&Q Living schemes including Newquay House, Tresco House and Apple Blossom Court.
Celebrating in true British style, residents went all out to royally decorate the scheme's garden with Union Jack flags, bunting, balloons and photographs of the queen.
---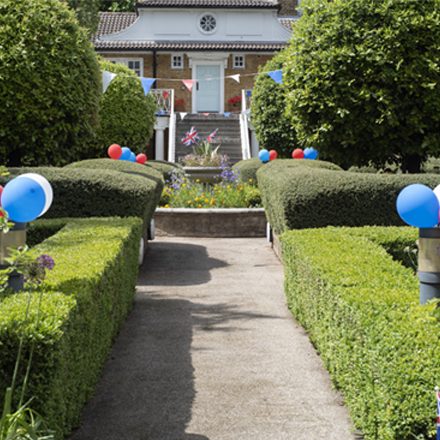 Woodstock Court garden's royal decorations
---
Party-goers enjoyed sandwiches and cakes, with a glass of cava and a cup of tea in an idyllic setting. Perfectly in keeping with the royal theme, Woodstock Court is a grade II* listed building, established by the Duchy of Cornwall in 1914 and now owned and managed by charitable housing association, L&Q.
Distinguished by an ornamental arrangement of flower beds laid out in intricate designs, Woodstock Court boasts a Parterre Garden in 15th century French renaissance style.
A showcase for horticultural skill, the garden has recently received special care and attention from resident volunteer gardener Dominic Marteaux, other residents, a previous L&Q grant and L&Q's Caretaking Services team.
The party proved popular, attracting the most guests to ever visit the scheme at one time, and was funded by L&Q Living's Inclusion team and organised alongside the Woodstock Court Residents Association.
---
Marie Quayle, who helped organise the event, said:
"We are proud of our grade II* listed building, established by the Duchy of Cornwall. Much effort has gone into maintaining the Parterre Garden, and we hope that the fruits of our labour will be evident later this month."
Sophie Leedham, Head of Resident Involvement and Accountability, said:
"A lovely afternoon was had – it was clear to see everyone enjoyed socialising and celebrating what was a truly special day.
"Many residents have fond memories of celebrating the silver, golden and diamond jubilees with their families and communities, and they were eager to ensure the Platinum Jubilee was no exception.
"With flowers in full bloom, it was also amazing to see first-hand the fabulous work of the residents, caretaking staff, and grounds contractors, who've worked together to bring the gardens up to such a high standard."
---
Over 2,000 L&Q Living residents benefited from more than £9,000 in grants awarded by L&Q's charitable arm, L&Q Foundation.
In Walthamstow, a barbeque was held at Nicholson Court to celebrate the occasion, whilst neighbouring Millennium House marked the event with food and fun.
Cornell Court in Saffron Walden celebrated with a huge gathering taking part in a sing-along, and at Verdon Roe Court, the oldest resident, who had previously met the Queen, did the honours by cutting their Jubilee cake.