L&Q inspires next generation of construction experts in Warwick
Staff from L&Q, a leading housing association bringing new homes to Gallows Hill, have paid a visit to Myton School in Warwick to nurture the next generation of construction industry experts.
Contractors from L&Q's Beauchamp Park development – which will open its doors to house hunters from 6th November – recently hosted a careers session for Year 11 students.
The session was designed to offer valuable hands-on tasks to students to make them aware of some of the careers that are available to them in either trades or the construction industry. Working with L&Q contractors and suppliers, the 15 and 16-year-olds carried out a range of tasks including putting together kitchen cabinets, tiling, stripping down a gas boiler and joinery which required problem solving skills and teamwork. With many schools no longer offering construction on the curriculum, along with a widening skills gap in the construction industry, it was a great opportunity for L&Q and their partners to be able to offer an insight into the range of careers there are available across the industry.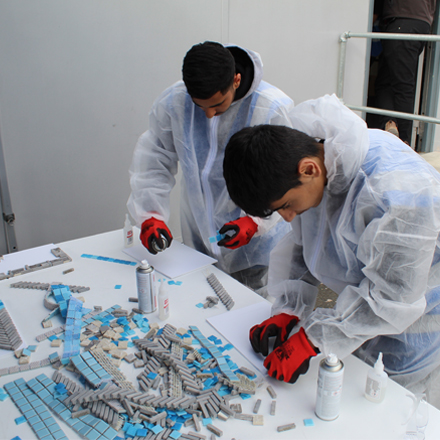 Students carried out a range of construction tasks
Sukhraj Hayer and Chloe Parry were just two students who took part in L&Q's careers session. Commenting, Sukhraj said:
"It was a really good experience, and I enjoyed the entire workshop. I've never seen or experienced anything like this before and it was a great insight into actual careers in the housing sector. I will definitely consider a career in construction after attending this workshop."
Chloe added:
"The workshop was really helpful. It provided a great insight, and I will definitely consider a career in the housing sector. I particularly enjoyed the tiling trade practice as you have creative freedom but it's also very structured. I would definitely attend another session in the future and look into other trades too."
Garry Coffey, Careers Office, Myton School, added:
"This was an incredible opportunity for our students to get a taster of the real world and what opportunities are out there for them. Importantly, many students stated how they had had their eyes opened to careers they had never even considered. We're grateful to all the tradespeople that gave up their time to share their wisdom."
Matthew Corbett, Director of the L&Q Foundation, said:
"It's really important that secondary school students have the opportunity to learn about the range of construction and trade careers that are available to them as they are getting ready to leave school.
"As a housebuilder, we know how important it is to invest in skills for the next generation of construction leaders, and to create opportunities in the areas where we build. We hope that some of these promising students will be inspired to enter the sector after this session."
The session was also attended by representatives from contractors working at L&Q's Beauchamp Park development including Crew Contractors, Baxi Boilers, Symphony Kitchens and Stewart Milne Timber Frame Systems.
L&Q's Beauchamp Park development enjoys an enviable setting in one of the country's most desirable locations with some homes enjoying views of Warwick Castles. Beauchamp Park is in a semi-rural location in the heart of the English Countryside, just two miles away from Royal Leamington Spa, with convenient and easy access to the M40 on the doorstep plus a variety of amenities in the scenic, historic market town of Warwick.