L&Q delivers Christmas cheer to local foodbank
Five office workers swapped their day jobs for donation sorting, helping to feed local people facing hardship over the festive period.
Members of staff from Stratford based housing association, L&Q, lent a helping hand to the Hope Centre and Barking and Dagenham foodbank on Thursday 16 December.
Packaging up over 80 Christmas food parcels, the London Marketing team's efforts have contributed to a total of over 400 volunteering hours carried out by L&Q staff in 2021.
Drawing on support from the wider organisation, the group of volunteers also set up a drop off station at L&Q's head office for colleagues to bring in donations.
Grace Johns, Marketing Manager at L&Q, said:
"The festive season is supposed to be a time of joy and celebration – but for too many people it's becoming harder and harder to keep their heads above water. By supporting the vital work of the Hope Centre and food bank, we were pleased to play a part in making Christmas more manageable for the local community."
---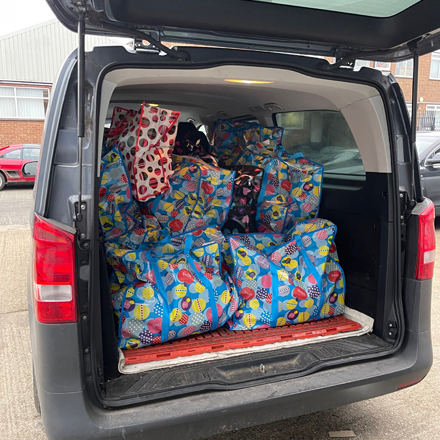 Food parcels ready for delivery
---
L&Q employees are entitled to 21 hours volunteering per year at a charity of their choice, with more than 90 staff taking part in a volunteering day this year.
The programme allows staff to try their hands at activities that differ from their day-to-day work. From working with supply chain partners to source equipment for a local school, to sprucing up garden areas in Hackney and cleaning up the River Lea.
The wide range of options on offer also give staff the chance to give back to local charities and non-profits, sharing their skills and knowledge to support organisations to develop their business models.
Encouraging staff members to volunteer is just one example of how L&Q is investing in its local communities through their £250m Foundation.
Established in 2018, the Foundation's Place Makers Fund aims to develop and support local, community-led and place-based projects that reflect the needs of the local area.
The Foundation is also due to re-launch its award-winning Learning to Succeed (LTS) project, which works with schools across London. LTS provides educational sessions tailored to the personal growth of students and raises awareness of careers in the built environment. To date, the project has worked with 30 schools across London, with L&Q staff and partners volunteering in these sessions for students.
---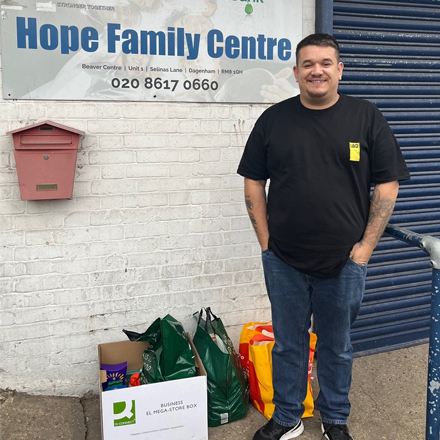 L&Q colleague, Jim, dropping off parcels at the Hope Centre and Barking and Dagenham foodbank
---
Matthew Corbett, Director at L&Q Foundation, said:
"Driven by our strong social purpose, we take a keen interest in the places we create and aim to transform the fabric of our neighbourhoods for the long-term. Essential to this mission is the creation of not only high-quality homes, but sustainable communities that enrich the lives of all who live in them.
We couldn't do this without our network of passionate colleagues, for whom supporting people is a vocation rather than just a job. This year's volunteering numbers speak for themselves and show that our staff are motivated to give back to the communities we serve, over and above the work they carry out in their day-to-day roles."