Lewisham and Southwark communities come together for summer fun day
Around 100 young people and families enjoyed a special summer extravaganza as social landlord L&Q hosted its free fun day.
Local community members enjoyed a huge range of activities at the Lewington centre, with attractions for all ages including an inflatable obstacle course and a giant climbing wall.
Staff led a busy programme of roller disco and Zumba activities; and a feast of free sandwiches, pulled-chicken burgers and cakes were also on offer.
Regular centre users sat around and soaked up the atmosphere after their weekly tai chi class.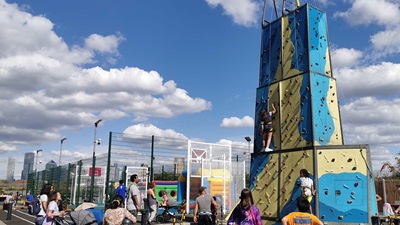 Liana Brown said:
"The event was very popular; it brought the neighbourhood together for a day of action-packed fun. There's a strong sense of community pride in Lewisham and Southwark –this is something we see in our work every day.
We've had lots of fantastic feedback saying it's been great to have something for all ages and learn about the new and improved nearby facilities, including the renovated playground and multi-use games area."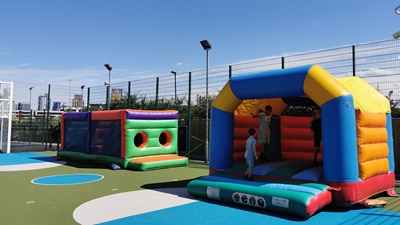 Located within the Silwood estate, the Lewington has been given a significant upgrade by L&Q. Originally opened in 2008, changes in 2022 included a renovated IT suite with 15 new computers, improvements to the building's interiors and a large walkway leading to a new café space equipped with an industrial kitchen.
The investment is part of a wider aim to revive the hub and transform it into a community asset centred around connection and learning.
Creating jobs in the local area, a new cafe due to open shortly will provide a business opportunity for a social enterprise or charity to take over the reins.
The idea of a community café came directly from residents who asked to increase the flexibility and use of the centre. Consultation workshops, 'get involved' events and online questionnaires have maximised community engagement throughout the process.
In collaboration with Sport England and supported by the National Lottery, L&Q hosts a range of inclusive and engaging fitness activities for residents as part of the social landlord's Get Set Go! programme.