Winter party at Beam Park
Families in Rainham's newest development enjoyed a fun-filled afternoon of wholesome festivities at Beam Park's first festive event.
More than 60 people attended the community get-together on Saturday 4 December – with quintessential festive activities, including an ornament decorating session and a performance from a brass band.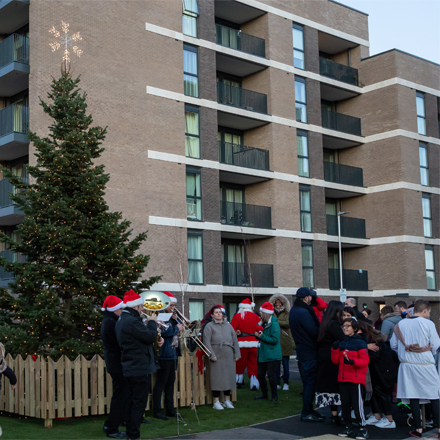 Beam Park residents enjoy a brass band performance
Amidst the festive experience, a newly planted 6m tree was unveiled and brought to life during a Christmas lights switch on. Aglow with colourful illuminations, the tree enhances existing biodiversity at the site and will remain a permanent feature at Beam Park.
Families donned their festive finery whilst taking a trip down a nativity trail, singing Christmas carols and listening to the nativity story along the way.
Topping off the festive fun, attendees were treated to free baubles, stars, ribbons and bows to decorate their homes with, and warming refreshments of mulled wine, hot chocolate and mince pies.
Throughout the event, Santa was on hand to bring a healthy dose of Christmas cheer and a small gift to each young resident.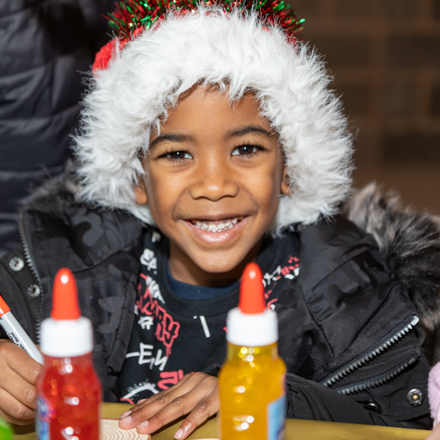 A young Beam Park resident at the festive event
The festive extravaganza was part-funded by Build-to-Rent (BTR) specialist, Simple Life London, who will offer over 130 apartments for private rent at Beam Park, and supported by a number of local community groups and stakeholders, including Strange Boat and Emmanuel Community School.
Beam Park is a £1bn regeneration scheme being delivered by L&Q and Countryside that is transforming the former Ford manufacturing plant into a new destination spanning 29-hectares and comprising 3,000 new homes, of which half are affordable.
Founded on an ambitious vision of what placemaking can achieve, the new homes are matched by infrastructure, including two primary schools, retail spaces, a gym, a nursery, a medical centre and two energy facilities.
Another focal point of Beam Park is the planned 3.5-hectare central park, forming part of the 44% of land allocated for green landscapes and offering ample space for children's play, outdoor exercise, allotments, and picnics.
Sharan Ansong, L&Q's Community Development Lead at Beam Park, said:
"Having lost out on Christmas last year, Saturday marked the start of the festive season at Beam Park in the most fitting way possible – bringing the community together for a memorable day.
Perfectly in tune with its vibrant location, the event is just one example of how we are supporting local residents to thrive and connect with one another through free community led activities.
The newly planted tree is also a welcome addition to a development that marries the needs of residents now with the needs of future generations to come."
Kevin Delve, Managing Director, East London, Countryside, added:
"One year on from our first residents moving in, we're delighted to have marked the festive season with the first ever Christmas event at Beam Park. It's fantastic to be able to celebrate the past year with our new residents and a great opportunity for the community to come together and enjoy festivities. There is much more to look forward to as we go into 2022 and the first community facilities open, as well as further new homes – adding to the already thriving Beam Park community."