Mental Health Awareness Week: L&Q and Mind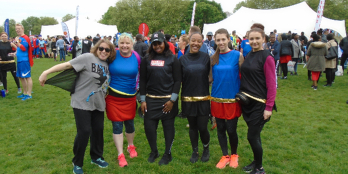 L&Q have raised a whopping £7,000 so far this year for its corporate charity, Mind, thanks to the sterling efforts of its employees.
Mind was chosen by staff to be L&Q's corporate charity for 2018 and fundraising events have so far included staff running the Mind Superhero 5k fun run, a charity quiz night, Easter raffles, and much more. The organisation is aiming to raise at least £14,000 by the end of the year and future activities include one employee cycling from London to Paris, a signed football shirt auction, bake sales, and quiz nights.
According to Mind, every year one in four of us will experience a mental health problem. Mind provides advice and support to empower anyone experiencing any mental health problem. It also campaigns to improve services, raise awareness and promote understanding of mental health issues.
L&Q's donations will help the charity to continue its vital work including through:
Developing national and local support networks for anyone experiencing a mental health problem
Campaigning for change – everyone should be able to access excellent care services and be treated with respect
Professional training to end discrimination and promote good mental health.
Sharon Beaufond, our corporate charity lead, said: "I am absolutely delighted that we have been working closely with Mind as our corporate charity for 2018. Mental health issues can affect any of us at any time and statistics show that every year one in four of us will experience a mental health problem of some kind.
"I personally have seen the lives of people very close to me devastated by depression and other mental health illnesses. Mind supports people suffering with mental health problems to get practical and legal advice and lobbies to improve mental health services overall."