L&Q launches capital's largest London Living Rent scheme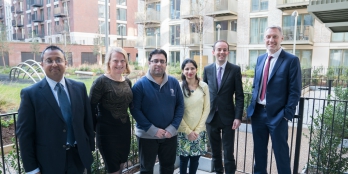 Hundreds more Londoners will be able to rent a genuinely affordable home, and save money for a deposit to buy it, as L&Q launches the capital's largest London Living Rent scheme in the Royal Docks.
The Sugar Works development at Royal Wharf, Silvertown, will offer 243 apartments at approximately two thirds of market rent, as set by the local authority.
Available through the new housing scheme, unveiled by The Mayor of London in September 2016, the apartments will provide affordable rental accommodation for households interested in purchasing their homes, but are currently unable to save for a deposit. Tenants will be able to purchase their home - either as a Shared Ownership or outright sale - when they have saved the required deposit for the property's market value.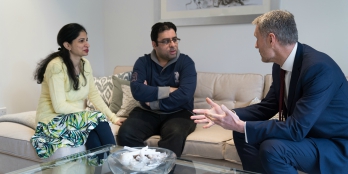 Just moments from Pontoon Dock DLR station and City Airport, The Sugar Works will offer a selection of spacious one, two, three and four bedroom homes. Situated within the larger regeneration of the Royal Docks, Royal Wharf, the area will see an expansive new 40-acre waterfront village developed alongside the Thames Barrier. Part of a £3.7b masterplan, by 2023, the new town will include 3,385 new homes, community centres, a library and primary schools.
James Murray, Deputy Mayor for Housing and Residential Development, commented:
"I am delighted to see tenants moving into the capital's largest London Living Rent development so far, where they can benefit from one of the Mayor's key manifesto commitments to make renting more affordable so people can save for a deposit. Fixing the capital's housing crisis is a marathon not a sprint, and Government will need to play its part, but this shows what a difference Sadiq is making already by offering Londoners an alternative to the private rented sector and providing genuinely affordable homes at lower rents."
Lukman Ahmed, PRS & Commercial Director at L&Q, said:
"We are thrilled to be launching such a large scheme under the brand new LLR scheme, giving more Londoners the opportunity to get on the first step of the property ladder. Private rental market prices can make saving for a deposit incredibly difficult for some households in the capital, so we're pleased to be supporting such an innovative scheme.
"L&Q is dedicated to providing Londoners with high quality, affordable accommodation. In April 2017 we signed an historic strategic partnership with the Mayor of London which will see £8bn invested to build 20,000 new homes across the capital, of which 12,000 will be affordable. This development at Sugar Works is a great example of how our partnership is delivering those much needed affordable homes."