Inspiring residents recognised at awards ceremony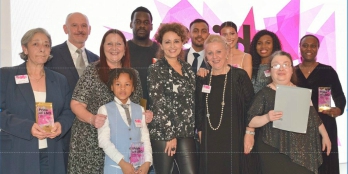 Nadia Sawalha was visibly moved as she joined residents for the 2017 Pride of L&Q awards this month. The awards are L&Q's chance to recognise individuals and groups who make a real difference in their community.
Finalists were invited to The Dorchester in London's Park Lane. There were five awards categories – plus one special, lifetime award – up for grabs.
"I have been touched by the heart-warming stories I have heard this evening," Nadia said. "It has been an honour for me to be invited to hear how L&Q residents are making a difference in their local communities."
She has really come to value community in recent years, she revealed. "As well as the basics – food and shelter – we also need to feel a sense of belonging," she said. "That's where people like you come into your own. You help make individuals into a community."
She went on to share how home-schooling her daughter had helped her appreciate her local community before getting down to the serious business of the awards.
 
The Irene Addis Lifetime Achievement Award - Nadya Enver
Nadya has lived in her home for nearly 40 years and has taken an active role in her community activities. She has been on the neighbourhood committee and worked tirelessly as an estate champion and resident inspector.
With this experience, she is someone we can refer to as a gauge of how we are doing. Her opinion is very valuable to us and the feedback we get from Nadya helps us improve our services.
"Nadya has got L&Q running through her blood," judges said.
 
Neighbour of the Year - Debbie Mills
Debbie is a great resident who is passionate about her community and the environment she lives in. She is inclusive of everyone and everything, with a traditional sense of community spirit.
She always looks out for others and this was evident when she took in neighbours for five days after a gas leak.
Judges said, "Debbie has the sense of community spirit that we should all aspire to."
 
L&Q Foundation Award: Community Project of the Year - Young Carers  
The L&Q Foundation supports local projects that give young people a better chance in life and strengthen the community.
The Young Carers team have shown an exceptional passion for improving the lives and well-being of young people in Barking and Dagenham. The young people involved in the project – some as young as five – have made excellent progress at school and their confidence has improved.
"This project has given a positive message about young carers, not just in schools, but in the wider community," judges said.

Young Person of the Year - Millie Melati
This award is for someone under the age of 24 whose maturity, selflessness and enthusiasm deserve our recognition and respect.
Millie was nominated for the unpaid work she does in her community and for always putting others before herself. She works with charities at home and abroad, distributing goods to war-torn countries such as Syria.
Judges said, "Millie is an example to us all and shows just what young people can achieve in their busy lives."
 
Apprentice of the Year - Shyam Kerai
This award is a thank you to one of our residents who we supported during the year through an apprenticeship at L&Q or at one of our contractors.
Shyam joined L&Q 18 months ago as an apprentice carpenter. It was quickly established that he could go on to have a successful career in construction.
His secret to success is his sheer determination to achieve his apprenticeship quickly, which impressed both his tutors and site manager. He is highly regarded by all his colleagues.
"We are so proud of Shyam's achievements and his ability to stand out in his academic development," judges said.
 
Rising Star of the Year - George Agbapuruonwu
George is motivated to succeed and achieve the goals he has set himself. He really engaged with our programme and made the most of the support that was offered.
He has overcome a number of challenges and is now doing an economics degree.
"We are so proud of George," judges said. "He has managed to overcome difficulties in his life to achieve great personal development."