Former Sidcup schoolgirl named Apprentice of the Year
A former Sidcup schoolgirl has been named Apprentice of the Year in an annual awards ceremony, after joining housing association L&Q. L&Q, a major local employer, was also crowned 'Employer of the Year' for its apprenticeships scheme in the awards.
Ellie Badcock, 17, won the top title a year after leaving Blackfen School, in Sidcup, beating competitors aged 16- 18 from around the south East. The awards were held by the London Learning Consortium (LLC) , which helps people find the right route into employment and develop their skills. In its nomination, the LLC said: "Ellie is very efficient and up to date with her work. She is very prompt with all her course work and meets deadline at all times. At the moment her progress is higher than expected. Ellie needs to be recognised for this.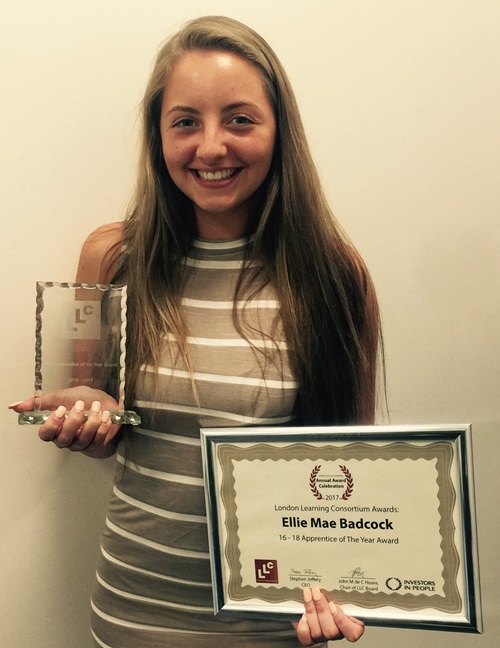 Ellie, who lives in Bexley, joined L&Q as an apprentice and now works in the Learning and Development team.
Ellie said: "I found out about L&Q's apprenticeship scheme at a careers evening at my school. I knew an apprenticeship was what I wanted to do and the scheme L&Q offered really appealed to me.
I am excited by the prospect of completing my apprenticeship and the opportunities it will bring to me."
Vicki Bryan, talent administrator at L&Q, said: "This is a great achievement for the Learning and Development team. The programme is funded by the L&Q Foundation, which furthers our social mission by investing in projects aimed at employment and training, financial inclusion, strengthening communities, and positive futures for young people."
L&Q as a company can see the importance of providing work experience and giving that opportunity to learners of all ages and backgrounds the chance to get their first job or back into work."
L&Q's nomination as Employer of the Year stated: L&Q clearly value investing in their staff and developing roles to create future staff and highly trained people.
Anyone who is interested in learning more about the L&Q apprenticeship scheme can call 020 8522 2221 or email Academy@lqgroup.org.uk