L&Q Board member and resident receives OBE in Queen's Birthday Honours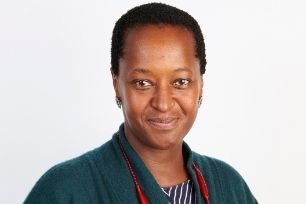 L&Q Group Board member, fire safety champion and resident, Fayann Simpson, has been awarded an OBE in the Queen's Birthday Honours.
The OBE – Order of the British Empire – has been awarded for her services to people who live in social housing.
Fayann, who joined the Group Board in 2018, has devoted nearly 20 years to working as an involved resident.
For two decades she has worked tirelessly with L&Q and the wider social housing sector to drive continuous improvement in the quality of homes and services.
As Chair of L&Q's Resident Services Board, she championed a change in the approach to fixed-term tenancies, arguing that five-year tenancies didn't encourage people to put roots down locally.
As a result, L&Q moved all residents with fixed-term tenancies onto lifetime assured tenancies.
Other housing associations have now said they are following this lead, meaning her work will benefit tens of thousands of tenants across the country.
Fayann, who spends at least one working day every week on L&Q activities, also championed a new, improved "void standard" for the homes that L&Q re-lets.
Other residents have also been encouraged by Fayann to take a more active role in feeding back on services. Without her, there would be a smaller pool of engaged residents working to improve housing services for the community.
Over the years she has been a member of the Resident Involvement Group, a chair of a Neighbourhood Committee, chair of L&Q Resident Board, Chair or L&Q's Complaints Panel and has been involved in the planning and delivery of L&Q's annual Resident Conference.
Following the Grenfell tragedy, she has also taken a place on Dame Judith Hackitt's Industry Safety Steering Group, setting standards that will ensure residents of high-rise buildings are safe. Her expertise sees her taking part in various high profile debates with stakeholders and industry experts, and she is a regular media commentator.
Fayann said today: "I'm very pleased to have been recognised with this honour and will continue to work with L&Q delivering excellent homes and services for residents, through my role within the Resident Services Board and the Board.
"I will also continue striving to improve safety for everyone through my work on the ISSG. There is no greater priority than safety.
"Creating a lasting legacy of safer and better quality homes is of huge importance and the people who live in them must be our priority.
"Residents have a wealth of skills, knowledge and expertise to offer and can make a real difference. I'm proud to be part of that. I am even more determined to do more and better."L&Q CEO, David Montague, said: "Fayann is the voice of social housing at L&Q and increasingly across the sector. Her unwavering energy, passion and commitment has been helping us to improve homes and services for L&Q residents for 20 years, and it has been my privilege to work with her. The vital work she is now doing around fire safety will go even further, helping to ensure that resident safety is central to everything our sector does.
"Somehow, Fayann also holds down a job in the city, is a student, exhibits at the Chelsea Flower Show, is a keen gardener, potter and perfume lover. I don't know anyone who gets more out of life and gives more back to the community, and this honour she has received today is thoroughly deserved."
Chair of L&Q's Group Board, Aubrey Adams, added: "Such is Fayann's drive and determination that, in my opinion, the industry would not be where it is without her. Residents would feel less safe and less satisfied. I cannot think of any other resident who deserves an honour more than her."