Mission to bring affordable homes to Kidbrooke Village passes major milestone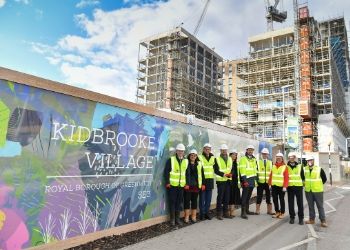 A partnership between a property developer and L&Q to bring hundreds of affordable homes to Kidbrooke Village passed an important milestone this week.
On Monday 2 March, senior representatives from L&Q and Berkeley gathered to celebrate the completion of construction works on a new 51 home affordable block at the scheme.
The homes, the first to be brought forward under the partnership, will be ready for occupancy in 2021.
We joined forces with Berkeley in 2019 with a landmark deal to provide 642 affordable homes across several blocks at the site, one of London's most significant new housing-led developments.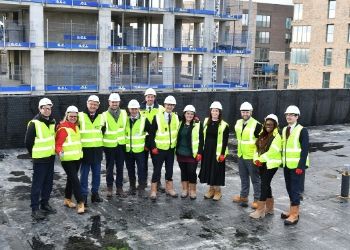 The homes will be a combination of Shared Ownership and London Affordable Rent, helping first time buyers onto the housing ladder and providing low cost rented homes for local people.
The special topping out ceremony saw the last concrete being poured into the structure of the new facility.
Kidbrooke Village is a £1 billion regeneration project transforming the area into London's newest neighbourhood south of the river. The finished scheme will consist of around 5,000 homes of mixed tenure and type alongside shops, community and leisure facilities.
The development sits in 136 acres of parkland and open space, including the newly designed Cator Park and Sutcliffe Park, which comprise areas of grassland, meadow and wetland rich in plant and wildlife. Berkeley has brought on board the London Wildlife Trust, experts in biodiversity, to help deliver its vision for parks and make sure that there is a place for nature to flourish.
Kidbrooke Village is the next stage of a successful partnership between the two organisations that began in November 2018, with the announcement of joint plans for the New Riverside Development in Reading. This new destination will deliver 765 new homes in the heart of the city, alongside a central riverside square, local store and landscaped open spaces.
Neil Davis, Regional Development Director, South Region at L&Q said: "L&Q has its roots in Greenwich – we were formed in the borough over 50 years ago – and we're proud to be involved in this important milestone in the transformation of Kidbrooke Village.
"As a charitable housing association, we create better places to live by delivering high quality homes, neighbourhoods and housing services that people can afford. We're excited to be working with Berkeley to enable more people to enjoy the fantastic benefits of living in this area."
Karl Whiteman, Divisional Managing Director at Berkeley (East & West Thames) said: "2020 marks our 10th year of placemaking in Kidbrooke Village. We've seen this area transformed and thousands of high-quality homes delivered.
"Berkeley is pleased to have built this partnership with L&Q. The delivery of these new affordable homes will help cement Kidbrooke Village as a prime example of housing done well. We look forward to welcoming the residents into the Kidbrooke Village community."