The Beaulieu Park School opens its doors to secondary school students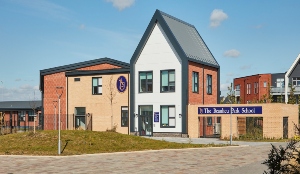 The Beaulieu Park School, Essex's first all-through school in Chelmsford, has opened its doors to the first intake of secondary school students. This major milestone in the school's development follows on from the official opening of Beaulieu Park Primary School which took place last year on October 12th, 2018.
The Beaulieu Park school is distinctive from other schools in many ways. Cross-phase teaching focuses on helping children experience smoother transitions to new stages in their learning. It also enables teachers to share expertise and resources that maximise the progress of every individual child. Students can also make progress through curriculum continuity, unaffected by phase breaks, which research has shown can lead to students falling back with their educational progress.
James Donaldson, Principal, The Beaulieu Park School says: "The opening of the secondary school is a major milestone for the school, truly establishing it as Essex's first all-through school. Since we opened last year, we have come a long way thanks to the hard work of our dedicated staff. As the school continues to evolve, we will remain committed to ensuring that all children, regardless of their ability or background, have access to an outstanding education at Beaulieu".
Andrew Carrington, Managing Director, Housebuilding (Strategic Land), Countryside, says: "As a developer, an important part of our vision is to have excellent education facilities on our developments. The Beaulieu Park School is a shining example of this. In its first year, it has already established itself at the heart of the Beaulieu community".
Craig Luttman, Deputy Group Director of Development and Sales at L&Q, says: "We're delighted that The Beaulieu Park School has opened its doors to students. As a charitable organisation, we believe strongly that good development is about more than homes and housing services. It's about investing in communities for the long term.

"This school will help to educate and inspire local children living in the area for years to come, building opportunity and aspiration. This is just another reason why Beaulieu is a great place to live, and we look forward to continuing our work with Countryside as this community continues to grow".
The Beaulieu Park School is an outstanding, state-of-the-art facility designed to provide a stimulating learning environment and sporting facilities for its pupils, and for the community to use outside of school hours. 
The Beaulieu Community Centre, which also lies adjacent to the school, provides further facilities. Throughout the year, residents and the wider community are able to get involved with a wide range of initiatives and activities at the centre, which also serves as a place of worship.
The Beaulieu Park School is located in the heart of the Beaulieu district, a 50/50 joint venture between Countryside and L&Q, one of the UK's leading charitable housing associations. Beaulieu is a vibrant new community for Chelmsford, which will deliver up to 3,600 quality new homes. Connected by generous parks and open spaces, Beaulieu will provide a wide range of community facilities, restaurants, coffee shops and supermarkets for new and existing residents to enjoy.