L&Q Group scoops awards for first time buyer homes
The L&Q Group and its subsidiary, East Thames, have scooped top accolades at the prestigious First Time Buyer Readers' Awards 2017, which recognised some of the amazing work being undertaken in the affordable home market.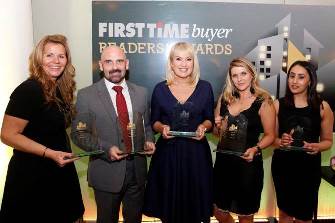 The annual event, held by the First Time Buyer magazine, is a celebration of the lengths that are gone to in order to help aspirational buyers onto the housing ladder. The awards, now in their eighth year, ensure that the best in the business are recognised and rewarded for their hard work.
The awards were presented by TV presenter Nikki Chapman at a gala ceremony held at The Waldorf Hotel in London.
L&Q chief executive, David Montague, said: "These awards are recognition of our commitment to providing quality homes at prices people can afford. We work extremely hard to try and meet the requirements of this important sector and are proud and grateful that our work has been recognised by the readers of First Time Buyer magazine.
"Our shared ownership developments have already helped thousands of first-time buyers and families onto the property ladder and we are very proud of this achievement."
The awards were:
Winner, Best Large Development: L&Q for Stadium Place, Walthamstow, Quadrant Construction
Winner Best Small Development: East Thames for Foundry Mews, Walthamstow, built by Storm Building Ltd
Winner, Best Show Home:  East Thames for Prospect East, Stratford, built by Hill Partnership Ltd
Highly Commended: East Thames, Best Large Development for Prospect East
Highly Commended: L&Q, Best Affordable Homes Provider