L&Q to bring hundreds of affordable homes to Chelmsford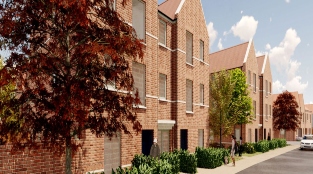 Chelmsford is set to receive hundreds of new affordable homes, after planning heads signed off L&Q's proposals for the latest stage of the Beaulieu Park development.
The plans, which will be known as The Arbour – Beaulieu, will provide 300 new homes, of which up to 255 will be shared ownership and 45 will be affordable rent. Designed to draw upon the rich heritage of local village architecture, the homes will be a mix of one and two-bedroom apartments, and two and three-bedroom houses.
The new homes form the latest phase of the wider Beaulieu development, which is being delivered on the 604-acre site. The land was once owned by King Henry VIII as his summer residence, Beaulieu Palace. The redevelopment will also provide schools, restaurants, coffee shops, community facilities and supermarkets, alongside generous open spaces.
L&Q, one of the UK's leading housing associations, has an established track record of helping people take their first steps onto the housing ladder. Since forming its Counties team in 2017, the organisation has evolved to become a Master Developer, covering the full spectrum of development from planning promotion and infrastructure delivery right through to housing and estate management.
As a charitable organisation, L&Q's role goes beyond housing and housing services. With a £250 million Foundation and Skills Academy, L&Q invests in the communities where it builds to deliver benefits and opportunities for local residents.
L&Q has been actively expanding its geographical reach across the UK, securing planning consents for 225 homes at Saxon Reach, Milton Keynes, and 60 homes at Birnam Mews, Tiddington, in November 2018. The organisation secured consent for 450 homes at Gallows Hill, Warwickshire, in March 2019, followed by 41 homes at Loves Farm, Cambridgeshire in June 2019.
Jason Williams, Head of Joint Venture Development and Regeneration at L&Q (Counties region) said, "We are absolutely delighted that Chelmsford has approved our plans for The Arbour - Beaulieu. Quality housing can make a huge difference to people's lives, and these homes will help hundreds of people to become homeowners for the first time.
"We have a long-term presence in the areas where we work, and we look forward to working with our neighbours to understand how best we can invest in this community."