L&Q celebrates completion of works at the Ocean Estate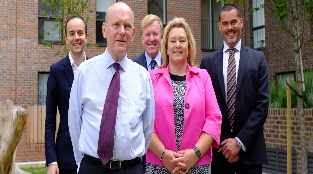 Last week we celebrated the completion of 225 homes on our flagship regeneration scheme at the Ocean Estate in Tower Hamlets. This included 121 quality new affordable homes for local people.
At an event held on site to mark the occasion, we were joined by James Murray, Deputy Mayor for Housing and Residential Development at the GLA, and John Biggs, Mayor of Tower Hamlets.
The Ocean Estate once sat in the top 10% of the most deprived estates in England, with high crime rates and an urgent need for change.
Working with our partners at Tower Hamlets, we have been working to transform the estate since 2010 (originally as East Thames). The challenge from the outset was creating an inclusive new community which would improve the lives of new and existing residents.
We have delivered 1,044 new homes, alongside new community facilities and improvements to open spaces. A total of 1,200 refurbished council homes were also built, providing all previous tenants and resident leaseholders who wanted to stay in the area with an improved new home.
Our involvement at the Ocean Estate has extended beyond bricks and mortar. The regeneration has provided a range of construction training and employment opportunities for local people living in the area.
Angie Hooper, Land, Acquisitions & Planning Director at L&Q said, "We are delighted to be celebrating this major milestone at the Ocean Estate. L&Q believes that everyone deserves a quality home they can afford, and we are proud of our involvement in this transformational project.
"It was nine years ago that we first embarked on this journey with our partners at Tower Hamlets and the GLA, delivering quality homes, vibrant open spaces and employment opportunities. We look forward to working closely with the local community for years to come."
John Biggs, Mayor of Tower Hamlets, said: "The Ocean Estate was once the place people pointed to when they wanted to show what was wrong with social housing in this country. Those days are now long gone.
"Now it is a symbol of what can be achieved when positive partnership working. I know what a difference this council-led transformation has made for our residents."
James Murray, Deputy Mayor for Housing and Residential Development at the GLA said, "I was very pleased to visit the Ocean Estate to see the latest phase of development. It was great to see that existing tenants and resident leaseholders had been guaranteed new homes, and that the new homes include accessible family-sized homes for residents who need them."
Richard Higgins, Chairman of Higgins Group PLC said, "The completion of Ocean Estate is a significant milestone in the regeneration of this part of East London and we are delighted to have worked with L&Q and played a major role in its transformation to deliver better housing for residents and create a safer environment for them to live in."