Local community celebrates opening of new community and youth centres at Acton Gardens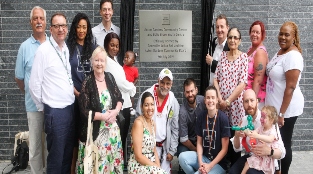 A celebratory event on Saturday 6 July marked the opening of the new community and youth centres at Acton Gardens, Countryside and L&Q's regeneration of the South Acton Estate. Councillor Julian Bell, the leader of Ealing Council, formally opened the modern, new centres alongside members of the Acton Gardens Community Board.
The event welcomed the general public and offered a variety of entertainment for families, including a climbing wall and face painting, as well as tours of the new facilities.
The Acton Gardens Community Centre and Bollo Brook Youth Centre, which are both based just off Bollo Bridge Road, will replace existing facilities on the South Acton estate. These vibrant spaces have been designed with substantial input from local residents and community groups.
The South Acton estate is being demolished and replaced by the award-winning Acton Gardens development. Once completed in around 2027, Acton Gardens will host at least 1,250 socially rented homes and almost a third more affordable housing than existed before the regeneration began. All of those homes will be within the means of local people on moderate incomes.
The Acton Gardens Community Centre is set over 840 square metres and includes:
One large double storey hall which can seat up to 100 people.
Two small halls separated by bi-fold doors which open to convert the space into a larger hall.
A double kitchen.
Meeting rooms, smaller offices and shared workspace for small local businesses, social enterprises and start-ups to hire. 
The centre will provide affordable space for hire. Staff will offer a wide range of support including assistance with funding bids, governance and growth.
The two-floor Bollo Brook Youth centre will run a range of projects for young people including music, art, cooking, personal development, sport and dance. The centre hosts a professional recording studio, an art area and a games space, including table tennis and pool tables.
The centres, which have been under construction since 2016, are part of a new hub for residents which also hosts a dental practice and shop. From next year the hub will be expanded further, with a nursery, GP surgery and more retail space, offering residents all the services they need on their doorstep. 
Councillor Yvonne Johnson, deputy leader and lead member for children's services at Ealing Council said: "We are delighted to see Bollo Brook Youth Centre officially open. This facility will have a significant impact on youth in the community – providing an incredible range of recreational programs for young people across the borough."
Councillor Peter Mason, lead member for housing, planning and transformation at Ealing Council said: "This really important community building will be the heart of Acton Gardens, providing a hub for residents to come together in a part of the borough that is undergoing a rapid transformation. Across Acton Gardens we are delivering 1,250 homes at social rents, and others for shared and outright ownership. Our aim to create 2,500 genuinely affordable homes by March 2022 is equal to our ambition to build happy and healthy neighbourhoods, just like the one emerging in South Acton."
Acton Gardens is being delivered by Acton Gardens LLP, which is a joint venture between leading housing association L&Q and homebuilder Countryside.
Mike Woolliscroft, Managing Director, Partnerships South (West), Countryside, added: "A strong community spirit is at the heart of any neighbourhood, and so we're thrilled to open the new community and youth centres. From the very start of the regeneration we have been committed to placemaking whilst ensuring we maintain the thriving South Acton community, and these new community facilities are crucial in achieving this. This purpose-built centre will create a new hub for the community, nurturing stronger bonds and a sense of wellbeing, and emphasises the importance of delivering new facilities and well thought out outdoor spaces, alongside modern, well-designed homes."
Darren Parker, Director of Project Management and Development (North Region) at L&Q said, "It was fantastic to celebrate the opening of the Acton Gardens Community Centre and the Bollo Brook Youth Centre on Saturday. L&Q is a long-term partner in the neighbourhoods where we work, and we are proud to be a part of the thriving community at Acton Gardens. These facilities demonstrate the value of working closely with local people and will provide high quality spaces for residents to use and enjoy for years to come."