L&Q Meets…Bedford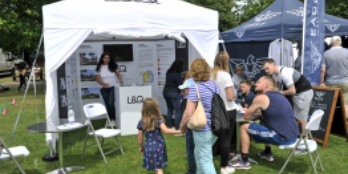 Last weekend, we attended the International Kite Festival in Bedford for the first of our L&Q Meets Roadshow events.
These will be held at community events across Milton Keynes and Bedfordshire, Essex, and Warwickshire over the summer. These are an opportunity to introduce L&Q to new communities in these regions.
Our team saw around 1,700 people across Saturday and Sunday and had conversations about affordable housing and the L&Q Foundation. There was also a face painting stand set up which provided popular with local kids.
L&Q is already active in Milton Keynes and Bedfordshire, with 225 homes at Saxon Reach in Milton Keynes due to launch later this year. Last month, we met with local councillors and organisations to discuss our work and gain feedback on investment priorities for the area.