Futures Event welcomes Nick Walkley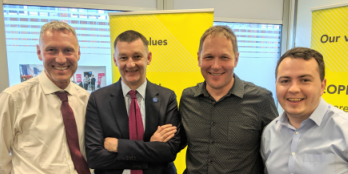 How do we solve the housing crisis for future generations?
In November 2018, L&Q set up its Futures Network, 25 volunteers from all parts of L&Q who spend 12 months focusing on that exact problem.
And this week we were delighted to host Nick Walkley, CEO of Homes England to our Stratford Offices to talk about bringing about change in housing. It was a fascinating discussion, with Nick sharing his insights about working in Government.
Over the next year, L&Q's Futures Network will identify key areas where we can add value, and then use these to develop an intensive research programme. This will be used to create an action plan to inform L&Q's policies. The group will work with our delivery partners, the Disruptive Innovators Network and the Dolphin Index Organisation, to bring this about.
Tom Way, Innovation Manager at L&Q said, "We would like to thank everyone who was involved in our Futures Network event. L&Q was founded in the 1960s to provide quality affordable homes, and whilst we are very much a 21st century organisation, it is that same fundamental mission which drives us today.
"We are proud to be at the forefront of embracing change in housing, investing in our people, resources and communities, and look forward to sharing our findings with the sector."
L&Q has a proud heritage of pioneering innovation in the housing sector. As an organisation, we are committed to transforming our business to be better, faster and cost. This forms a key part of our ambitious growth mission to deliver 100,000 homes over the next decade.