L&Q's first development with Trafford Housing Trust gets underway
Work has begun this week on L&Q's first development with Trafford Housing Trust in Manchester.
​Spinning Gate will be a mix of 45 affordable one and two bedroom apartments that will be available for shared ownership and Rent to Buy, the government initiative to help renters in social housing buy a home.

The development will offer residents easy access to the M60 and the Trafford Centre, one of the largest shopping centres in the UK.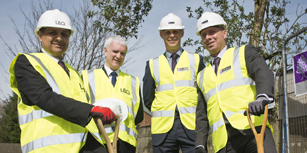 Jerome Geoghegan, Group Director of Development and Sales at L&Q, said: "The ground-breaking on the Spinning Gate scheme site is an exciting milestone in our innovative partnership with Trafford Housing Trust.

"We entered into a 50/50 joint venture to deliver more homes more quickly than we could have done individually. L&Q brings strong financial capacity and development expertise to the partnership. Trafford Housing Trust brings its own financial strength, alongside local knowledge and an outstanding track record of delivering quality developments across Greater Manchester and the North West.

"Our overall commitment to London and the South East remains unchanged, but any profits from our partnership with Trafford Housing Trust will be reinvested in the North West. This will enable larger, more complex projects to be delivered in an area of the country that is crying out for more high quality homes."
Larry Gold, deputy chief executive of Trafford Housing Trust, commented: "It's very exciting to see the first spade in the ground as a result of our collaboration with L&Q, and even more so that we see our profit-for-purpose approach bringing affordable housing for Trafford residents.
"Over the coming years, we hope to speed up the building of new homes across the North West with our partners, and from applying profit-for-purpose. The Spinning Gate development is an excellent place to start.
"Trafford Housing Trust sees its role as more than simply a developer, we have a wider responsibility to create places where people want to live and that process builds sustainable communities."
Spinning Gate is due to be completed in early 2018.