L&Q and Countryside sponsor Olympic style Superstars Festival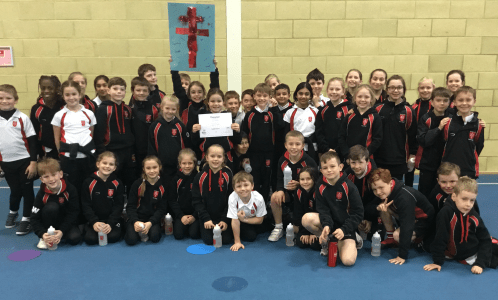 Beaulieu, Chelmsford's vibrant new district which is a 50/50 joint venture between Countryside and L&Q, has teamed up for another year with the Chelmsford School Sport Partnership (CSSP) to sponsor the Superstars Festival. The sports competition, aimed at all year four students in Chelmsford, was held at the Chelmsford Sport and Athletic Centre, with six competitions taking place over three different dates: February 5th, 12th and 26th.  In total, 43 schools and 2000 Year 4 students competed to determine which school would come out on top.
The results have just been published, with the following schools coming out on top:
1st place – New Hall School
2nd place – Chancellor Park Primary School
3rd place – St Pius X Catholic Primary School
Kicking off with an Olympic style opening ceremony, Chelmsford's Year 4 students competed across eight multi-skilled stations that ranged from basketball, speed stacking and the triple jump, to other activities that tested agility, strength and coordination.
The children collected points at each station and the relevant scores were then added together and divided by the number of children the school has brought along. By calculating an average, schools both large and small were able to compete on a level playing field.
135 secondary school students from Great Baddow High School, Chelmsford College and St John Payne School, volunteered to act as organisers, monitors and judges, making this an event organised by the students for the students.
Andrew Carrington, Managing Director of Strategic Land for Countryside, says: "We are delighted to continue Beaulieu's sponsorship of the Chelmsford School Sport Partnership for the 5th year running. It is truly impressive to see how every year, Sara Robson and her team go from strength to strength in terms of driving school sports participation across Chelmsford. We look forward to seeing future Year 4 students from the newly opened Beaulieu Park Primary School taking part in this fantastic event."
Craig Luttman, Regional Managing Director, at L&Q, says: "It's fantastic to see another successful year at the Superstars Festival. We believe that good development means going beyond bricks and mortar, and working in partnership with local communities. It's great to be involved with the Chelmsford School Sport Partnership, and we're excited to see this event grow even more in the coming years."
Sara Robson, School Games Organiser for the Chelmsford School Sport Partnership, says: Through the Superstars Festival, we wanted to create an inclusive event where any child can come and compete in a positive environment, while also being encouraged to develop good sporting attitudes. It's a wonderful opportunity to support so many young leaders and develop their confidence and skills to lead and officiate. To see such large participation numbers and to develop values such as friendship, determination, courage and respect is one of the partnership's main aims. We would like to thank the schools and Beaulieu for their continued support."
At the end of the event, the most talented and gifted students received medals and certificates. Every child who participated also received a Beaulieu Sports Bag.
The Chelmsford School Sport Partnership was launched in September 2003.  Despite Government cutbacks, the Chelmsford Partnership continues to develop and work with all 61 schools in the area, including eight secondary state schools, two special schools and 50 primary schools.   The organisation is committed to improving sporting opportunities for young people and meeting the new targets for the School Games programme. It offers support to all schools on competitive high quality PE, leadership opportunities, support for students identified as gifted and talented, coaching, INSET and access to funding.