L&Q join UN Women UK in global campaign for gender equality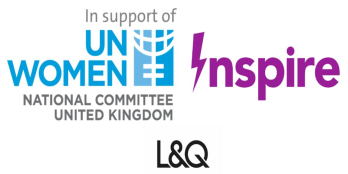 L&Q have launched a landmark partnership with UN Women UK, further solidifying their position as a sector leader on diversity and inclusion.
Inspire, L&Q's gender equality network, has marked the new collaboration with a donation to UN Women UK to support their work. It will also run additional fundraising events throughout the year to improve the lives of women and girls around the world.
The donation will help to deliver change at every level from policy and legislation to delivering programmes on the ground, allowing over 2,000 women and girls to access life-changing opportunities around the world.
As part of the partnership, L&Q will join other UN Women UK partners in shaping the future of UK gender policy as well as changing attitudes and behaviours. Employees from the housing association will now benefit from UN Women UK's training and resources, and have representatives attending quarterly partner meetings to discuss best practice on gender equality in the workplace and beyond.
The landmark partnership will be launched at an event in central London at The Foundling Museum to mark International Women's Day on 8 March.
UN Women was created in 2010 to direct UN activities on gender equality issues and address the challenges faced by women and girls worldwide. It has launched the campaign HeForShe, a global equality movement championed by celebrities including Emma Watson, and #DrawALine, which aims to end violence against women and girls.
The housing association recently released its gender and BAME pay gap statistics in a bid to encourage more transparency in the sector, and confirmed that the partnership with UN Women UK will inform its work on talent progression for BAME staff and women.
Madeleine Hale, Chair of the Inspire Network, said: "Now is the time to act on gender equality. By working with UN Women UK we are stepping up to make real change and I am delighted our donation will be used to provide life-changing opportunities and vital support. L&Q have been at the forefront of tackling inequality in the workplace and the gender pay gap was an important step in this.  However now we must take the next step in turning that awareness into tangible action."
Jan Gale, L&Q's Head of Diversity and Inclusion, said: "We know that being able to attract, develop and retain talented women and people from diverse backgrounds is vital for successful business. At L&Q, we are proud to be leading the way in tackling gender inequality both in and out of the workplace. We look forward to building on this through our partnership with UN Women UK.
Simon Gallow, Development Director, UN Women UK said: "We are delighted that L&Q has taken this important step to becoming a leading voice on gender equality in the sector. Over the past 12 months, there has been unprecedented awareness of the issues around gender inequality and discrimination, and now we must grasp this opportunity together to change the way the world works for women."
*
About UN Women
Established in 2010, UN Women is the only global organisation dedicated to gender equality. The aim is to remove the social and cultural barriers that prevent women and girls from achieving their potential. UN Women works with the private sector, NGOs and individuals all over the world on sustainable long-term solutions which help change the way the world works for women. Whether empowering women entrepreneurs, responding quickly to crisis situations or working in communities to change behaviour and eliminate gender-based violence, UN Women works across both policy and programmes to support UN Member States as they set global standards for achieving gender equality, and works with governments and civil society to design laws, policies, programmes and services needed to ensure that the standards are effectively implemented and truly benefit women and girls worldwide. 
About UN Women UK
UN Women is represented through the National Committee, one of the 14 global committees which make up UN Women and work towards recovery and further crisis prevention, with a particular focus on preventing human rights violations and alleviating social and economic challenges faced by women and girls. In the UK, UN Women works to promote gender equality in government and the private sector, raise awareness among the public, establish appropriate actions for effective change, and create vehicles for donors to become champions and direct funds to where they can be most effective.