L&Q's commitment to education is a lesson for the industry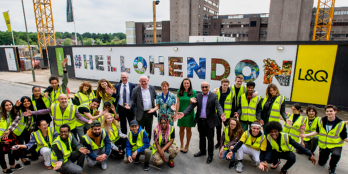 This article was first published by the Considerate Constructors Scheme
As a regulated charitable housing association, L&Q's culture is deeply rooted in action 'with a social conscience'.
Nowhere is this approach more evident than at the Rushgroves development in Hendon, north west London, where L&Q is building 387 apartments for completion in 2021.
One of the company's first actions was to join forces with Barnet and Southgate College to create a new public artwork on the site hoardings inspired by the '#HelloHendon social media campaign it had developed for the project. It was designed to help instil a sense of pride in the neighbourhood, promote Hendon as an aspirational area in which to live and celebrate its vibrant and diverse culture.
The project was structured to mimic a public art commission with L&Q as the client and the students responding to an artist's design brief. The L&Q team and their architects delivered lectures to the 36 students from the college on the design principles of the scheme and a site visit was arranged for the young people to learn more about the site context and to see construction progress. Students then worked in teams to create their designs, responding to three key themes:
Community: the students were asked to consider the factors that make Hendon a desirable place to live – its diversity of people and lifestyles, its mix of urban and green spaces, its history and its position.
Environment: the meandering path through the development mirrors the route of the nearby Silk Stream, while the apartment buildings have been designed to resemble water rushes. The students were challenged to integrate images of nature into the hoardings artwork.
The future: the area is undergoing rapid transformation – new homes, jobs, community hubs, schools and colleges, along with a new mainline station and bus interchange, are all planned. Through the medium of the hoardings, the students would be helping residents visualise this new environment in which they would live, work and socialise.
Other sources of inspiration for the students were the Welsh Harp Reservoir, nearby Mill Hill Observatory and much-loved TV cat Bagpuss – whose creator, Oliver Postgate, was himself Hendon-born.
Separately, L&Q teamed up with first-year BA Television Production students from Middlesex University to make mini-documentaries for the #HelloHendon campaign. The winning entry was produced by 19-year-old Federico Favretto, who focussed on life at a local barber shop. He said that the feedback from L&Q's media team gave him the chance to develop his technique and judgement.
Creating careers
For other students, working with L&Q opened up a world of career possibilities for the creatively-minded students. For those who combine design and people skills with an analytical approach, a career in architecture could be one to consider. Students who particularly like using or manipulating images might find work as CAD technicians or graphic designers. While wordsmiths could work as press officers, journalists, copywriters or bid writers for world-leading companies – in marketing, communications or new business.
All the students, regardless of their age or discipline, also learnt how to respond to a client's commission, how to work within key parameters; how to deal with the inevitable changes and restraints, and how to condense and distil key messages to fulfil its requirements.
Lesson planning
The Scheme's Ivor and Honor Goodsite mascots have been put to good use, with L&Q using them as a means of reaching out to years 5 and 6 at Colindale Primary school. L&Q developed age-appropriate lesson plans around site safety, careers in construction and strong shapes and structures. The lesson plans allowed the children to enjoy fun, interactive activities while learning about the industry and the different professions and trades within it, dispelling the idea that construction is simply about muddy boots and manual labour. The activities also developed the children's understanding of physics and engineering and the children were shown the many different skills required to build a house.
At secondary school level, L&Q has taken engagement a stage further and, in partnership with the Construction Youth Trust, is now actively working alongside teachers to plan and deliver curriculum aligned lesson plans. In Hendon, L&Q has delivered lessons at nearby Copthall School, a non-denominational academy for girls aged between 11 and 18, focussing on raising attainment for STEM (science, technology, engineering and mathematics) qualifications and supporting those considering a career in the construction industry. Enrichment sessions were also offered on CVs, apprenticeships and job interviews.
To further help girls understand what it's really like to be a successful woman in the construction industry, L&Q arranged for boys and girls from various local schools to meet three female professionals based on site in Hendon – an engineer, a design and technical manager and an apprentice site manager – on International Women's Day. Research has shown that lingering sexist attitudes are off-putting to women so it is important that those considering a career in construction have opportunities to address these issues directly. More women entering the industry will also help to address the skills gap, change the prevailing culture and even contribute to its future profitability.
The company has a track record of spotting potential at an early age. A fifteen-year-old girl came to L&Q for a two-week placement on site but with no great ambition to work in the industry. L&Q arranged for her to undertake a number of site-based tasks, including a stint in the marketing suite. Her time there showed her the scope and scale of opportunities that the industry has to offer and she has since applied for an apprenticeship with L&Q.
The local community
In line with its social responsibility agenda, L&Q and its contractors actively support local people into employment. This includes offering work experience and training for 20 apprentices from Barnet and Southgate College and achieving high numbers of local people being employed on the site – for example, both the receptionist and security guard are from the area, as well as the apprentices.
The site has also demonstrated its consideration to its neighbours in this mainly residential area by giving notice of disruptive works via monthly newsletters and providing weekly community drop-in sessions. The team also made repairs to St Matthias, a local church, sponsored the local Christmas fair, cleared over 80 sacks of litter from the nearby Silk Stream and held a summer barbecue to bring the community together.
Investing in the future
While the #HelloHendon hoardings come down in 2020 when the project concludes, L&Q hopes that its legacy will last even longer by resiting the artwork to a local park that it is helping to improve. Beyond the essential job of providing much needed homes for Londoners, L&Q also hopes that many of the young people it first met in Hendon's schools and colleges will be inspired to lead meaningful and fulfilling careers in the construction industry.