L&Q announces Crisis partnership with £10,000 Christmas donation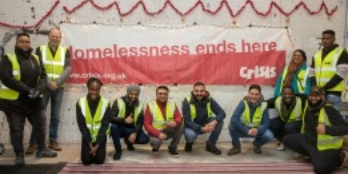 Two of the UK's largest housing bodies have joined forces for the first time to tackle homelessness.
Crisis, the national charity for homeless people, has been announced as social housing provider L&Q's charity partner for the next two years.
L&Q expects to raise £50,000 to help bring an end to homelessness and is making an extra donation of £10,000 to pay for hundreds of homeless people to spend this Christmas in a Crisis centre.
The housing association also sent 11 volunteers to the Crisis warehouse in Bermondsey to help staff process donations of food and clothes ahead of the festive season.
A place at Crisis over Christmas costs £28.18 and includes accommodation for a week. It also provides access to doctors and dentists, and sociable activities including football and yoga. All guests are encouraged to connect with Crisis Skylight Centres, which offer expert help to find safe housing and gain new skills.
Matt Corbett, the Director of the L&Q Foundation, which made the donation, said: "Everything we do starts with social purpose, and tackling homelessness is one of the most pressing issues facing society today.
"By partnering with Crisis, we aim to help deliver life-changing support services for homeless people across England Scotland and Wales. We are also reserving 355 places for guest at Crisis this Christmas, providing safety, companionship and essential support services.
"Over 4,000 people attend Crisis Christmas centres every year, and for many it is the first step in getting the help they need to get off the streets."
Richard Lee, Director of Fundraising at Crisis, said: "We are delighted that L&Q has chosen to stand side by side with Crisis, and those experiencing the devastation of homelessness. In 21st century Great Britain, everyone deserves a safe and stable place to call home, and at Crisis we work to end homelessness once and for all.
"We know what it will take to end homelessness, but we need everybody in to make this a reality. We are delighted that L&Q have chosen to partner with us, raising vital funds, sharing their time and joining us in a commitment to ending homelessness for good."
Crisis figures show that around 236,000 people in the UK are homeless, with 12,300 people sleeping rough across Britain in 2017. A further 12,000 people were found to be sleeping in cars, tents and public transport. There are nearly 80,000 households living in temporary accommodation, a rise of 49 % in the last five years.
L&Q is one of the 201 housing associations who have signed the Commitment to Refer initiative launched by the National Housing Federation in October. Signatories pledge to collaborate with local authorities to notify them of anyone at risk of homelessness and work to prevent it wherever possible.