L&Q partners with Cardboard Citizens to tell the stories of social housing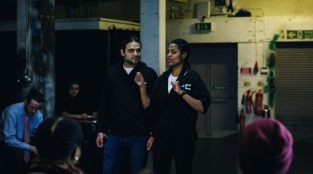 Charitable housing association L&Q has announced a partnership with theatre company Cardboard Citizens, which aims to tell the real-life stories of those in social housing.
The award-winning theatre company will undertake residencies in four L&Q estates, listening to the stories of residents, and working with them to explore the truth of social housing, and the challenges that residents can face.
Matthew Corbett, Director of L&Q Foundation, said: "Everything we do starts with social purpose. We want to tackle the social stigma of renters with a creative and engaging storytelling approach. This project will highlight the important role social housing has played in the lives of many people."
Cardboard Citizens has over 25 years' experience building the skills, qualifications and confidence of those experiencing or at risk of homelessness through workshops and courses. The residencies will help unemployed residents gain new skills and confidence, including training for PEARL employability qualifications.
Adrian Jackson, Cardboard Citizens artistic director said: "The partnership with L&Q will allow us to celebrate what works in social housing and discover what doesn't work, through the stories of the people who live in it. We want to amplify their voices, helping them inform the way social housing can develop to meet the challenges we face in the future."
The residencies will take place throughout 2019.
Notes to editors
About L&Q
L&Q is one of the UK's leading housing associations and developers, managing more than 90,000 homes across London and the South East.
We are committed to tackling the housing crisis and have an ambitious plan to enable the delivery of another 100,000 quality new homes over ten years.
Half of our new homes will be genuinely affordable to people on average and lower incomes, with the other half available for private rent or sale, reflecting our belief that everyone should have a quality home they can afford.
We are a not-for-profit housing association and reinvest the money we make into building quality homes, creating successful communities and providing excellent services for residents.
As a charitable housing association our role goes beyond providing homes and housing services. We are a long-term partner in the neighbourhoods where we work. We hope to build aspiration, opportunity and confidence among residents through our £250m community foundation and our skills academy. 
Our care and support subsidiary, L&Q Living, provides housing assistance for older people and those with support needs.
For further information please visit www.lqgroup.org.uk
About Cardboard Citizens
Cardboard Citizens is an award-winning theatre company and one of the world's leading practitioners of Forum Theatre. The company has toured across hostels, day centres and prisons for more than 25 years, breaking down conventional divisions between audiences and performers. It has worked with renowned organisations including the Royal Shakespeare Company and English National Opera, and is supported by Ambassadors Kate Winslet CBE, David Morrissey, and Rory Kinnear.