Beam Park planning approval granted for £1bn regeneration scheme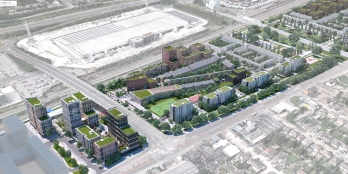 L&Q together with Countryside and the GLA (land owner), is pleased to announce that the planning application for the £1bn development at Beam Park in East London has been approved by the Deputy Mayor of London, Jules Pipe.
Beam Park will deliver over 3,000 homes across 29-hectares (71.7 acres), regenerating the derelict site of a former Ford manufacturing plant into a new and vibrant destination. The £1bn development is one of only three regeneration schemes in the Capital delivering more than 2,500 homes and providing 50% affordable housing. At Beam Park, this equates to 1,513 affordable homes, creating a mixed community with significant infrastructure investment.
The development will provide the new Beam Park railway station, framed by a high-quality public square, as well as a medical centre, which not only serves the new residents, but also residents in the surrounding area, two schools, retail spaces, a gym, nursery, community facilities, a multi-faith space, and two energy centres. The Beam Park station is located on the C2C line and will significantly enhance the area's direct links into Central London.
44% of the development has been allocated for publicly accessible green space. This includes a three-hectare central park in the heart of the development with the River Beam running through it. In addition, Phase 1 will deliver a linear park to the north of the site.  This new public realm will include play areas for children and serve as an exciting community space for residents.
The masterplan for Beam Park was produced by award-winning architects Patel Taylor.
Beam Park, the site of the former Ford factory plant, is the final parcel of GLA land to be released for development. Beam Park sits within the London Riverside Opportunity Area, an area earmarked to provide 26,500 new homes and up to 16,000 jobs across the boroughs of Barking and Dagenham, and Havering.
Andy Rowland, Managing Director for East Region at L&Q, commented:
"This milestone brings Beam Park a step closer to reality. Housing supply is a serious concern for many Londoners, and with 50% affordable housing, Beam Park is helping to contribute to the solution. The land for the Beam Park redevelopment is one of the largest sites released by the Mayor of London and the GLA to provide new homes for Londoners.
"We are looking forward to continuing our successful partnership with Countryside, the GLA, the London Borough of Barking and Dagenham and the London Borough of Havering, to build quality homes in places where people want to live."
Robert Wilkinson, Managing Director at Countryside Partnerships South, East London, said:
"We are delighted to have received the green light for our hugely exciting plans at Beam Park. This project, in partnership with L&Q and supported by the Mayor of London, is an incredible opportunity to regenerate this part of the capital, and with 50% affordable housing, will make a huge contribution to meeting local housing needs.
"We were encouraged by the vast responses and co-operation of the local community during our consultation process, who were extremely supportive of our proposals. Beam Park is an essential component of the Mayor's commitment to providing new homes for Londoners and we are proud to be playing a key role in delivering not just affordable homes but also vital infrastructure, which will play a vital role in ensuring the new Beam Park community is sustainable and cohesive for generations to come."