New artwork celebrating Hendon unveiled on Rookery Way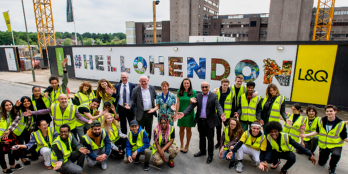 L&Q have teamed up with Barnet and Southgate College to design new artwork for display at The Rushgroves.
On Friday 1st June, the new Deputy Mayor of Barnet Caroline Stock, along with 36 students from Barnet and Southgate College, unveiled new artwork designed to celebrate the best of Hendon and the surrounding area.
The artwork, which spells #HelloHendon, is a culmination of a three month collaboration between L&Q and the college, and seeks to inspire local pride in the area. Students were briefed at the start of the project by the architects behind The Rushgroves on the architecture and design process and were then asked to work in teams to create designs for the hoardings that respond to three key themes relating to Hendon; community, environment and the future.
Speaking about the #HelloHendon project and the unveiling the Deputy Mayor said: "I was delighted to take part in this event and speak to some of the talented art students about their designs and the inspiration behind them. The artwork they have created truly demonstrates their talent and why Hendon is such a great place to live – I urge local people to visit Rookery Way and take a look for themselves."
The students were inspired by various features of the local area, including the Welsh Harp Reservoir, the Mill Hill observatory and the Metropolitan Police Training Centre. Famous locals are also celebrated, including Oliver Postgate - the creator of Bagpuss.
The new artwork is on display on hoardings at The Rushgroves, where 1 and 2 bedroom apartments are now available for sale. As part of the campaign, local residents are invited to connect with L&Q on social media using the hashtag #HelloHendon, and share what it is that they love about Hendon.
Stuart Miller, Managing Director, L&Q North Region, said: "Making a positive contribution to the local community is really important to us at L&Q. We've really enjoyed working with the College on this exciting project and are very impressed with the artwork their students have created, which captures so many interesting things about Hendon in such a creative way."
David Byrne, Principal of Barnet and Southgate College, said: "It's been fantastic to finally unveil the artwork that our students have worked so hard on in recent months, from conducting their research to developing their designs and producing the artwork in a variety of creative mediums. Our students are very proud of the local area and I think this really shows in the artwork they've created."
The design of The Rushgroves itself is inspired by the nearby Silk Stream, with a meandering path through the development and building facades giving the impression of water rushes. Once completed, The Rushgroves will comprise 387 homes, from studios to four bedroom triplexes, as well as further commercial spaces for the community to enjoy.