Acton Gardens hoping to auction £150k tower mural for charity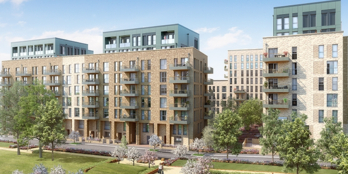 Acton Gardens, a 2500-home development between L&Q and Countryside, is trying to preserve a street art installation by popular graffiti artist Stik to raise funds for local community art projects.
A tower on Bollo Bridge Road will be demolished in the latest phase of one of the capital's largest regeneration programmes.
The Charles Hocking House building is home to a 125ft mural – known as 'Big Mother' - by popular street artist Stik. He also painted a smaller 'Family Group' painting at the foot of the building
The Acton Gardens team has devised a plan to try to rescue Stik's 'Family Group' painting – a two-metre by two-metre section of the main installation - at the foot of the tower.
If the mural is successfully preserved, it will be auctioned off with proceeds being donated to ARTification, a local charity transforming communities through art. It could sell for as much as £150,000. Recently, a 3ft high wooden example of the mural sold at Christie's for £42,000.
The demolition of the 1960s council tower block in West London is part of a major regeneration programme, designed around the rehousing of existing residents. The programme, which has won coveted awards for housing design, is replacing 1,800 properties with 2,500 new tenure-blind homes – half of them affordable – and creating a 55,000 square foot community hub including a brand new public plaza, nursery and youth club, a medical centre, and retail outlets.
The preservation project is supported by the artist Stik alongside the Acton Gardens development partners, L&Q and Countryside, and Ealing Council.
Charles Hocking House itself will be replaced with 160 new, high-quality modern homes, expected to be completed in 2020.
Darren Parker, Director of Development at L&Q, said: "We are long-term partners in the neighbourhoods we serve. This artwork preservation is another example of our commitment to local communities. We believe no one should be denied the opportunity to achieve their potential because of where they live. We're proud to partner with charities like ARTification who help people make their aspirations a reality."
Mike Woolliscroft, Managing Director (West London) of Partnerships South Countryside, said: "We're extremely proud of what we've already achieved with Acton Gardens, working closely with the whole community and the council to rehouse current residents and provide brand new facilities for them. It's bringing hundreds of new affordable, quality homes for local families.
"We thought it only fitting to mark the demolition of the empty housing block by saving the Family Group by Stik who is renowned for his socially-conscious artwork. His social commentary ties in perfectly with our own philosophy of building well-designed homes for existing social housing residents. More than 90% consider that the regeneration is successful in improving their quality of life."
Dr Rachel Pepper, Director of Acton Charity, ARTification, added:
"The fact that the South Acton estate has and continues to be in a state of regeneration is a key feature behind the wealth of street art that ARTification has created in the area over the last 10 years. Stik's 'Big Mother' references the centrality of family to this community, reflecting the concerns of local people in an area of urban and social transformation.
"We are very pleased that Acton Gardens is attempting to salvage the family group on the soon to be demolished Charles Hocking House. The plan is to auction the art piece with the proceeds supporting ARTification in further community-based art projects."
Tony Clements, Executive Director (Housing and Regeneration) Ealing Council, said: "Ealing Council has actively supported community art initiatives at South Acton for many years, and we are delighted Acton Gardens is responding to the community's wish that some of this art is preserved. The fact that the sale of the piece will help fund future artworks on the estate is absolutely fantastic'"