Tributes paid to L&Q resident campaigner
It is with great sadness that we announce the passing of Stan Swann following a period of ill health.
Stan was Chair of L&Q's west neighbourhood committee for 15 years from 2005 to 2020, and a member of our previous Resident Board and Resident Services Group.
An L&Q resident for over twenty years, Stan had a strong presence in the South Bucks area and worked tirelessly to champion the needs of his local community.
He played a significant role in helping us to improve our maintenance services, both as a member of our procurement panel and head of our maintenance policy group.
Stan was awarded an Irene Addis Lifetime Contribution Award at our Creating Places Awards 2012 for his outstanding contributions to L&Q.
---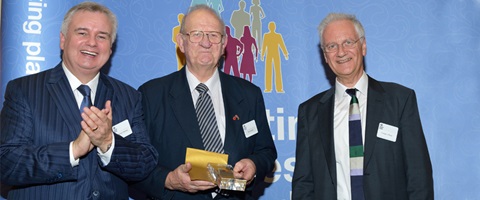 Eamonn Holmes (left) and Turlogh O'Brien, former L&Q Group Board Chair (right) present Stan with his Irene Addis Lifetime Contribution Award in 2012
---
Fiona Fletcher-Smith, CEO at L&Q, said:
"Stan was motivated to represent the interests of local residents at every single turn. A wise voice in the room, he was dedicated and professional in his approach and always stood up for what he believed in. He kept L&Q rightly focussed on the Southeast and was instrumental to our delivery of a locally responsive service.
So many people were touched by Stan's work, both residents and the people he worked with. Very few people leave behind such an exceptional legacy, and we are privileged to have known and worked with him."
Fayann Simpson, Senior Independent Director at L&Q, said:
"Stan's unwavering energy, passion and commitment helped us to improve homes and services for L&Q residents for more than two decades. He was a brilliant Chair, with a great sense of humour, and he taught me so much over the years. Stan will be missed by all of us at L&Q and my thoughts are with his family and friends during this difficult time."
Jeremy Hutchins, former Assistant Director of L&Q's west neighbourhood committee, said:
"Stan was constructively critical and always gave us the opportunity to put things right. He was passionately supportive of L&Q and gave up so much of his time to help improve services, ably supported by his patient wife Gwen. A true gentleman, he will be missed by all who knew him."