Spotlight on resident volunteers: Meet Tim
This Volunteers' Week, we will be shining a spotlight on five of our fantastic resident volunteers, all of whom are working with us in partnership to improve our services.
Consider for a moment what kind of community you'd like to live in. Think about what it might be like to grow up and eventually grow old there.
As a child, would you have a safe area to learn, socialise and play? In later life, could you look forward to time outside in a green, public space?
These motivations were the driving force behind Silwood Estate and L&Q Resident Services Board member Tim's mission to improve the under-used playground and games area at his local park.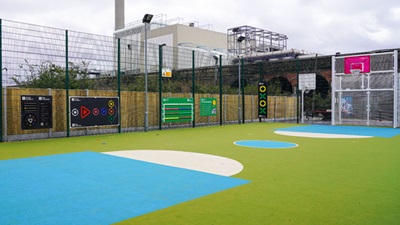 Tim said:
"Pocket Park had the potential to be a far better resource to families and the community. The area was derelict, overgrown and residents didn't feel safe taking their children there. The playground was always empty, I only ever saw teenagers hanging around at night.
"In the games area, the tarmac was in bad nick, the fences were too low down and there were open spaces on either side that weren't being used. Money had been spent on installations which, while interesting, were not functionally useful to people".
In late 2020, Tim got together with a group of residents from the Silwood estate to promote the need to improve the community assets, in ways that would make better use of space, increase use, improve health and wellbeing, and strengthen community cohesion.
Discussions took place between the resident association and L&Q over several years as we worked out where responsibilities and focus for this work was based.
Tim continued:
"There was quite a bit of frustration from residents about the lack of progress and not being sufficiently listened to at the time: it felt like a missed opportunity for us to work together to make things better,"
Tim was too determined to be defeated and continued to advocate for the need for action. A breakthrough came when we appointed a specialist contract manager to lead on play area improvements. A few weeks later, Tim, staff from L&Q and an operative from assigned contractor, Play Innovations, went on a joint visit to the playground.
"We'd been asking for two separate play areas for younger and older children, as well as picnic tables and more trees. When L&Q suggested adding an outdoor gym, I immediately thought this is a brilliant idea and a great way to ensure the space caters for everyone,"
Once Safe Way had finished the plans, the resident association were invited to give feedback and a public presentation took place at the community centre.
Fast forward seven months, and the £170k investment has given the play area a new lease of life. From new swing sets, slides, picnic tables and a climbing frame, to a multi-use games area with table tennis, football, basketball and an outdoor gym, the recreational areas have been designed with the whole community in mind and are offering local people a place to enjoy leisure time with others.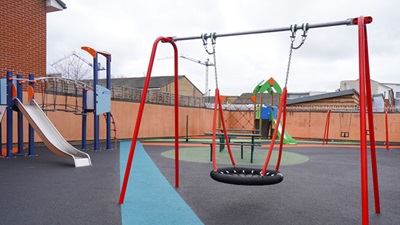 Planning, collaboration and hard work culminated in giving the residents of Silwood estate an open space that they can be proud of. By advocating for the estate, talking to the community and working with teams across the organisation, Tim achieved what he set out to do, ensuring all improvements made were what residents wanted to see and will make use of.
"It was a long slog of meetings, calls, emails and advocacy, but I'm pleased with the end-result. This is testament to what can be achieved when L&Q works in partnership with residents."
The investment was made as part of our major works programme. Beyond improving homes, the contracts include social value commitments with contractors such as Axis Europe to create a lasting impact in the communities where we operate, including improvements to community assets."